Delicious Disney Dishes: Chocolate Souffle from Palo on the Disney Cruise Line
|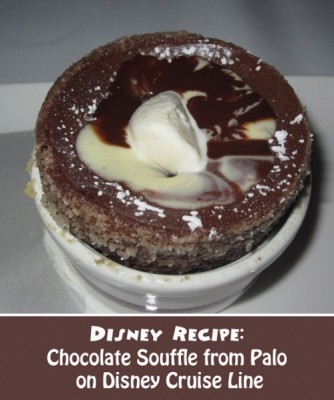 One of the best things that you can get on the Disney Cruise Line for a chocoholic like me is the Chocolate Souffle from Palo. Oh my god, is it just so incredibly good. It is rich and decadent and well, as the title suggests, delicious.
Currently I'm dreaming of my Disney Dream cruise (get it…) which is slated for next summer and I have a large hankering for this great treat! So, I grabbed the recipe and I'm sharing it with you!
Chocolate Soufflé – Palo
Disney Cruise Line
3 tablespoons butter, plus more for greasing the soufflé cups
6 tablespoons sugar, plus more for dusting the soufflé cups
1 cup milk
3 tablespoons all-purpose flour
3 tablespoons Dutch-processed cocoa
2 ounces (2/3 cup) semisweet or bittersweet chocolate, melted
4 eggs, separated
Directions:

Preheat oven to 350°F.
Set a full kettle of water on to boil.
Butter six 4-ounce soufflé cups and coat with sugar and set aside.
Bring the milk to a boil in a small saucepan.
Meanwhile, melt the butter in a medium saucepan over medium heat.
Add the flour and cocoa to the butter and beat with a whisk to a smooth, paste-like consistency. Reduce heat and cook for 1 minute.
Slowly add the hot milk, whisking until smooth, then blend in melted chocolate.
Let cool for 5 minutes, then stir in egg yolks.
Beat egg whites in a separate bowl until frothy.
Slowly add sugar, 1 tablespoon at a time, until stiff, glossy peaks form.
Stir a heaping spoonful of egg whites into the chocolate, then fold in the remaining whites just until combined.
Pour the batter into prepared soufflé cups.
Place cups in a large baking dish and add enough boiling water to reach halfway the sides of the soufflé cups.
Bake for 20 minutes.
Serve immediately, with warm vanilla sauce and ice cream.
Vanilla Sauce
1 1/4 cups heavy cream
1/4 vanilla bean, split lengthwise
3 tablespoons sugar
2 small egg yolks
Directions
Bring cream and vanilla bean to a low boil in saucepan over medium heat.
Combine sugar and egg yolks.
Add 2 spoonfuls of boiling cream to egg mixture and stir well, then pour back into the remaining cream and continue to cook over low heat, stirring constantly for 3 to 4 minutes.
Happy Cooking!
Incoming search terms:
disney cruise line recipes palo restaurant recipes
disney cruise line wonder recipes palo restaurant recipes