Delicious Disney Dishes – Honey Coriander Chicken Wings from 'Ohana
|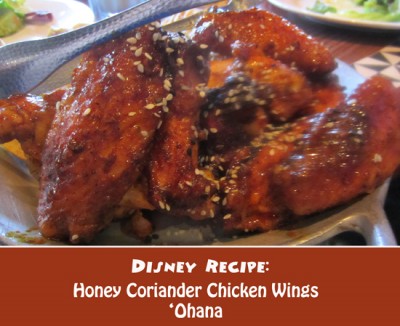 One of the best aspects of the 'Ohana dinner is one of the appetizers – the Honey Coriander Chicken Wings. They are incredibly delicious and juicy. They make the best treat, whether it be an appetizer, dinner, or a great snack. So today, I share the recipe with you and hopefully you'll enjoy dining on them too!
Honey Coriander Chicken Wings
'Ohana – Disney's Polynesian Village Resort
Spice Rub
1 tablespoon salt
2 tablespoons paprika
2 tablespoons sugar
1/2 teaspoon black pepper
1/2 teaspoon turmeric
1/2 teaspoon ground cinnamon
1/4 teaspoon cayenne pepper
4 tablespoons canola oil
4 pounds chicken wings/drummettes
Directions:
1. Combine Kosher salt, ground paprika, sugar, ground black pepper, turmeric, ground cinnamon, granulated garlic and cayenne pepper.
Coriander Wing Sauce  
1 tablespoon chili powder
1/2 teaspoon ground ginger
1 tablespoon ground coriander
2 tablespoons lime juice
1/2 cup soy sauce
1 cup honey
3/4 cup water
2 tablespoons cornstarch
 Directions:

1. In a nonstick pot, simmer chili powder, ground ginger, lime juice, ground coriander, soy sauce and honey.
2. Mix together cornstarch and water. When mixture begins to thicken slightly, add cornstarch mixture.
3. Stir until sauce thickens nicely, then remove from heat.
Chicken

4 tablespoons canola oil
4 pounds chicken wings/drummettes
Directions:
1. Preheat oven to 400.
2. Add chicken to the spice rub mix and canola oil and using your hands, tossing wings so that they're well covered with spice rub.
3. Lay chicken pieces on cookie sheets lined with foil, well spaced and not overlapping.
3. Bake until cooked through and browned, about 20-35 minutes depending on size of wings and drums.  Juices will run clear when they have cooked through.
4. When the chicken wings have cooked through, toss in the wing sauce.
5. Serve
Happy Cooking!
Incoming search terms:
disney ohana chicken wing recipe
disney ohana wing recipe
ohana wings recipe
ohanas chicken wings