Delicious Disney Dishes: Kouzzina's Greek Fisherman's Stew
|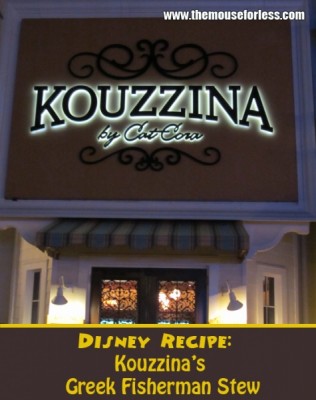 One restaurant I never did make it to visit was Kouzzina, which is located at Disney's BoardWalk Inn.  I'd heard great things about it, but it was never a place I made sure to stop to dine. Now it looks like I never will eat there, as Kouzzina will be officially closing its doors at the end of the month, (the last day of operation is September 30), making way for a brand new dining experience called Trattoria al Forno.  The new Italian-themed restaurant is slated to open sometime this December.

So, in honor of the upcoming closure of this restaurant, I thought I'd share a recipe of a dish that was featured on the menu.  The Greek Fisherman's Stew is one of those classic dishes that just screams Kouzzina.  It sounds like a great, hearty treat that I may have to add to my routine too!
Greek Fishermen's Stew with Garlic Crostini
Kouzzina by Cat Cora – Boardwalk
1/4 c extra virgin olive oil
1 large yellow onion, halved lengthwise and sliced into half moons
2 cloves garlic, minced
1 c dry white wine
1 15-oz can diced tomatoes
1 tbs chopped fresh marjoram (or 1 teaspoon dried marjoram)
1 tbs chopped fresh Italian flat-leaf parsley
2 c seafood/fish stock or bottled clam broth
1-1 1/2 lbs of shrimp, clams or mussels (deveined, shelled and cleaned)
1 tsp Kosher salt
1/4 tsp freshly ground black pepper
4 thick slices rustic bread toasted rubbed with garlic and olive oil
1. Pour olive oil into a large saucepan set over medium-high heat.
2. When the oil is hot but not smoking, cook the onion until lightly browned, approximately 5 to 7 minutes.
3. Add the garlic and sauté for 2 to 3 minutes.
4. Pour in the wine and reduce the heat slightly.
5. Simmer the mixture for 3 to 4 minutes.
6. Add the diced tomatoes and herbs.
7. Pour in the fish stock or clam juice.
8. Add the clams and mussels (if using). As soon as the clams and mussel shells open, add the shrimp and simmer until shrimp are pink. (If you're not adding clams or mussels, add shrimp right after you've added the fish stock.)
9. Season with salt and pepper and serve hot.
10. Add a toasted slice of a thick, hearty bread.
Happy Cooking!
(PS:  We'll miss you Kouzzina!)
Similar Posts:
Incoming search terms:
cat cora fishermens stew recipe