Delicious Disney Dishes: Chef Mickey's Garlic Parmesan Mashed Potatoes
|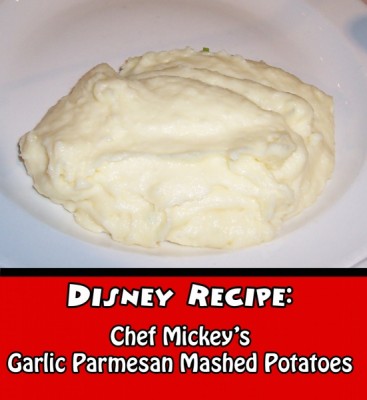 Mashed potatoes…for me, are my comfort food. When I'm in a funk or sick, the first thing I crave is a good heaping pile of mashed potatoes. So I'm always looking for good recipes of how to make my mashed potatoes different and unique.
When I saw the mashed potatoes on the buffet at Chef Mickey's for the first time, I thought, well these look unassuming. They'll likely be adequate, but nothing special to write home about.  Boy how wrong was I!  When I tried the mashed potatoes I realized just how glorious they were! These potatoes were simply incredible; with the perfect flavor of garlic and cheese.  (I LOVE garlic!) I was going to have figure out how to make them at home.
And figure out, I did.  So, now I share this recipe with you, so that you too can make this delicious Disney side dish for your family!
Garlic Parmesan Mashed Potatoes
Chef Mickey's – Disney's Contemporary Resort
Instructions:
1.  Boil potatoes until soft and easy to mash. Drain and return to pot.
2.  Heat half-and-half in small pan until warm and add to potatoes.
3.  Mix potatoes with a whisk or handheld mixer, while adding the cheese, butter and garlic puree.
4.  Continue mixing until smooth and creamy.
5. Add the salt and pepper to the mix.
Roasted Garlic Puree
Ingredients:
1/3 cup whole peeled garlic
1 tablespoon olive oil
Instructions:
1.  Heat oven to 350 F.
2.  Toss garlic in olive oil and spread out in a shallow baking pan.
3.  Place pan in oven and roast until the garlic is soft, approximately 10 minutes.
4.  Remove pan and place roasted garlic in blender.
5.  Pulse garlic until it becomes rich and creamy.
5.  Remove from blender and use in mashed potatoes.
Happy Cooking!
Incoming search terms:
contemporaryresort chef mickeys creamy mashed potatoes
disney theme potato dish
disney world bounty platter potatoes recipe
disney world mashed potatoe recipe
mickey mouse creamed potatoes
recipe for disney mashed potatoes
walt disney recipe for mashed pototes