I received these books free of charge, so I could read them and share them with you.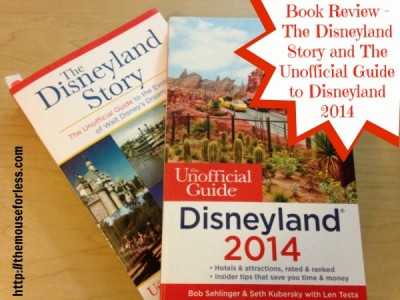 I'm not afraid to say that I'm a person who prefers Disneyland over Walt Disney World.  Why?  Because of the history there.  It's the original, and there is still a little feeling of Walt Disney remaining there.  Whether it is the light still shining in Walt's apartment or the Lilly Belle riding the rails past the Grand Canyon diorama.  Maybe it's Great Moments with Mr. Lincoln or the Matterhorn that speak to me.  Whatever it is, I can see and feel the history at Disneyland.
A little while ago, I saw something mentioned on Facebook about The Disneyland Story – The Unofficial Guide to the Evolution of Walt Disney's Dream written by Sam Gennawey.  A little later, I was asked if I would like to review the book.  Being the Disneyland fan that I am, I jumped at the chance.  Over the years, I've tried to read just about everything I could about Walt Disney and Disneyland, and my daughter has followed in my footsteps.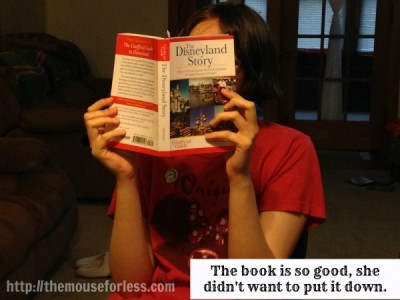 Yes, she certainly has followed…  When the book arrived, she started reading it.  I asked her if I could take her picture reading the book.  What's funny is that after I took the picture, I told her I was done.  She didn't move.  She just kept reading.  I've had the same problem!  There is just so much in this book that I hadn't read before, and I can't put it down, either.  It looks like Mr. Gennaway did a LOT of research to combine so many details in one place to provide a cohesive story from start-to-finish.
So far, I have three favorite spots in The Disneyland Story.  My first favorite area is early in the book where Mr. Gennawey tells some of the details spanning the early thought process and planning stages of Disneyland.  It is just amazing how much research and travel went into the planning stages!  It's also amazing that Disneyland was ever built when you think about all the stumbling blocks put in Walt's way.  The next part that draws me in is Mr. Gennaway's telling of the planning and building of the Matterhorn.  You really have to read this part, but I will give you a hint that it includes a company building its FIRST roller coaster and testing it without the modern convenience of a crash test dummy.  My last favorite to this point is the part about the development of Mr. Lincoln.  I have always been in awe of Mr. Lincoln and the technology that went into the development of  animatronics.  I didn't realize there were so many reservations about creating Mr. Lincoln.
t think all fans of Walt Disney and the Disney Parks should read The Disneyland Story!  It's a lot of history in story form that is easy to read and is compiled into one book.
If you are thinking about or planning a trip to Disneyland, check out The Unofficial Guide to Disneyland 2014.  The Unofficial Guide to Disneyland 2014 contains planning tips, information about onsite and offsite hotels, and details about the different attractions and restaurants in the parks.  There are other things covered in the book, as well.  This planning guide is my favorite for Disneyland because it is one of the few for Disneyland that is updated regularly.
Sponsored Ad:  Would you like to help support The Mouse For Less website in continuing their mission of being THE Disney vacation planning resource?  You can do so by purchasing The Disneyland Story or The Unofficial Guide to Disneyland 2014  from our affiliate link through Amazon.
Disclosure:  I received the two books in order to write the review above.  I received no other compensation from the company providing the books, nor was I required to write a positive review.  All opinions are mine and my daughter's.  
Similar Posts: