Foodie Friday: Snack Spotlight on the Magic Cookie Bar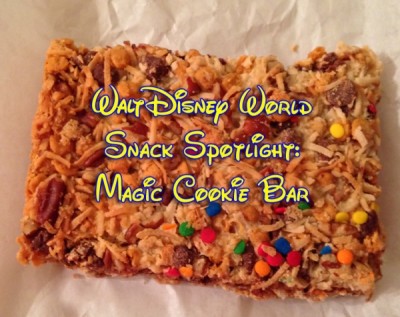 You want to know what one of my hands down, favorite treats at Walt Disney World is?  It's the Magic Cookie Bar.  Now, I know that it's not that unique, it's commonly known as the Seven Layer Bar and many make this treat for Christmas and the like, but it doesn't ever matter to me because every few trips, I have to make sure to stop and grab this incredibly sweet treat!  There's just something about it that screams Disney to me.  (Much like popcorn does…mmm…buttery popcorn….)
Maybe I love it so much because I pick it up at one of my favorite resorts…Disney's Wilderness Lodge.  First off, the Lodge is just the most serene place ever. The lobby warmly welcomes you in and you feel like it's sort of giving you a giant hug.  Is that just me?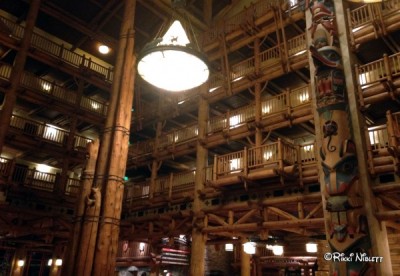 Anyway, Magic Cookie Bars…that's what we were talking about.
If you head down to the  quick service dining location, Roaring Fork, you'll be able to find this treat in with all the other pastries and goodies. (Roaring Fork, is another great hidden gem, if you're looking for a great quick service place to eat, by the way.  Check out their menu!)
To me, there's just something so great about sitting by one of the fires found at this resort and chowing down on a Magic Cookie Bar.
So, what exactly is a Magic Cookie Bar, for those of you who don't know.  It's this huge treat, that's made with a graham cracker crust, then chocolate and butterscotch chips, coconut, nuts, and condensed milk. Disney recently started topping it all off with colorful sprinkles!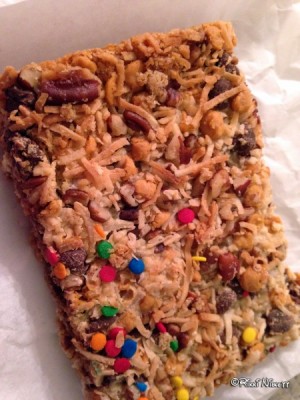 Take a closer look.  Doesn't it just beckon your name?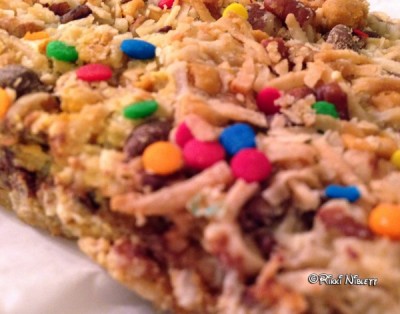 One bite in and you know you're in heaven.  It's such a rich and delicious treat that I often only eat half and then save the rest for later. (I know…that takes a lot of willpower…trust me!)  Though, if you eat the whole thing in one sitting, I certainly couldn't fault you!
The Magic Cookie Bar is also a great treat to bring back home with you and I've done that a few times too. But, I can understand if it doesn't quite make it in your luggage!
Overall, this delight is a sweet tooth's best friend.
About The Author
RikkiN
In addition to being the Blog Admin and a Website Content Creator here at The Mouse For Less, I am also the co-host of the Be Our Guest WDW Trip Planning Podcast. I also post news articles for TouringPlans. Finally, I am the editor of the Mouse For Less Newsletter!