My Favorite Christmas Light Display
|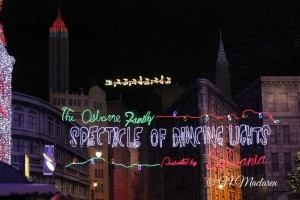 My favorite light display…  No, my favorite Christmas decoration in Walt Disney World is The Osborne Family Spectacle of Dancing Lights.  I have always LOVED Christmas lights and always tried to see as many lights as possible every year.
Do you know the history of The Osborne Family Spectacle of Dancing Lights?  Well, this is actually something that I'm fairly familiar with.  No, I never had the opportunity to see them in their original form, but I remember hearing about them on the news in the early 1990s.  See, I'm from Arkansas, and The Osborne Family Spectacle of Dancing Lights is from Arkansas, too.  Mr. Jennings Osborne was asked by his daughter to put some Christmas lights on the house one year, and after that Mr. Jennings added and added and added even more to the display every year.  Soon, he bought the houses on either side of his house and decorated those, too.  It was so popular that people drove from all over to see his lights.  As I said, I never got the chance to go down there, but I understand that it was like driving down Highway 76 in Branson, Missouri during the summer.
The neighbors complained about the lights and about the traffic.  Honestly, I'm not sure that I blame them because I can't imagine living next to a display that massive!  Anyway, after the court said the lights had to come down and all of Mr. Osborne's appeals failed, he was told that the lights had to stay off.  Walt Disney World approached Mr. Osborne about his lights being displayed at what was then called Disney-MGM Studios (now, Disney Hollywood Studios).  I'm just going to stop here and ask if anyone has ever seen or thought about moving 3 million lights?  I can't even imagine what that many lights and displays would have looked like in storage!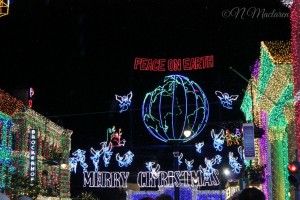 And the rest is, as they say, history!  As there was "Peace on Earth" at Walt Disney World, I'm sure there was a little more peace in Mr. Osborne's neighborhood.  What a wonderful place to be able to see this massive display that has kept in Mr. Osborne's tradition of continued growth!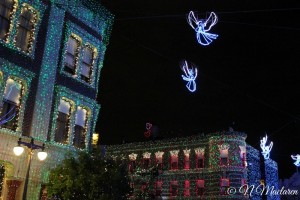 I love how Walt Disney World has added some Disney touches to the display, too.  Do you see the Mickey heads in the center of this photo?  Another thing to search for is the cat made of lights that is hidden every year.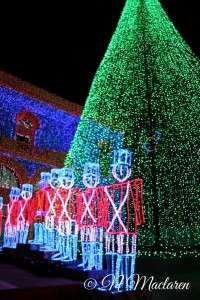 If you look closely at the tree, you can find another Mickey head.  I'm a little sad I wasn't able to make it down to Walt Disney World this year to see The Osborne Family Spectacle of Dancing Lights this year but hope to make it back next year.  It is definitely my family's most favorite time of the year!
If you are heading down to Walt Disney World yet this year, you can view The Osborne Family Spectacle of Dancing Lights during the following dates:  November 08, 2013 – January 05, 2014.