Christmas Events at Epcot
|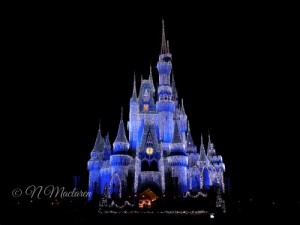 It's no secret that Disney (whether it be Disneyland, Walt Disney World, or Disney Cruise Line) is one of the most magical places on earth for the holidays!  Last week, I shared some about The Osborne Family Spectacle of Dancing Lights at Disney's Hollywood Studios, which is Christmas lights on steroids.  It is truly a "must see"!
While we are talking about holiday offerings at Walt Disney World, I can't forget to mention the icicle lights on Cinderella's Castle.  They are beautiful and truly a sight to behold both from within the park and outside the park.  I say that because while they are pretty looking straight ahead at it down Main Street USA, it is also nice to look at them from the tower of the Contemporary Resort with the other lights of Magic Kingdom in the foreground.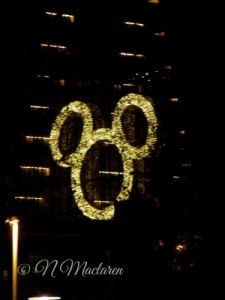 Speaking of the Contemporary Resort, I love the giant Mickey head wreath on the end of the tower!  But the Contemporary is not the only resort that decks out in the holiday finery.  Spending time looking at the decorations in the resorts is a lot of fun!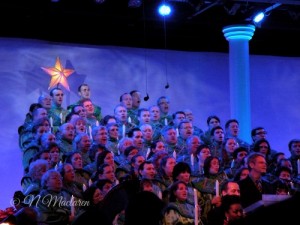 But when I think of Epcot, I immediately think of the Candlelight Processional.  Epcot really goes all out for the Candlelight Processional!  Picture a 50-piece orchestra, a choir, and a celebrity narrator.  Oh, and the choir is made up of members of Disney's Voices of Liberty, the Cast Member choir, and a visiting choir.  The guest narrator tells the Biblical story of Christmas accompanied by musical selections by the orchestra and choir.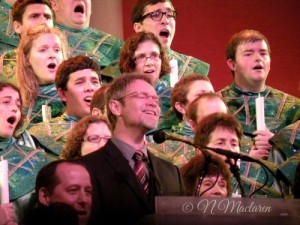 When we saw the Candlelight Processional, the narrator was Steven Curtis Chapman.  He is one of my favorite Christian performers, so I was excited that he was there during our visit that year.  He not only read the story, but he was singing with the choir.  Now, his microphone was not on during the singing, but it was obvious that he was enjoying himself and was really moved by the story.  If you are a Steven Curtis Chapman fan and will be there December 23-25, he is on the schedule currently for those dates.
Here is a list of the remaining narrators for this year:
Dec. 20-22: Trace Adkins (country music artist)
Dec. 23-25: Steven Curtis Chapman (Christian music artist)
Dec. 26-28: Blair Underwood (actor & director)
Dec. 29-30: Amy Grant (pop & gospel music artist)
*Please keep in mind that dates and narrators are always subject to change.
There are a lot of other holiday offerings at Epcot:  Holiday Storytellers at World Showcase, Santa Meet and Greet, the special holiday finale to Illuminations: Reflections of Earth, Gingerbread Village, etc.  If you will be at Epcot between now and the end of the year, make sure to find out more about these and other holiday events on our Epcot holiday page.