Rikki's Mouse Bites 10/21/13
|
Wetzel's Pretzels and Haagan-Daz in Downtown Disney WestSide has now closed.  The location will reopen in the Spring 2014 as a Starbucks.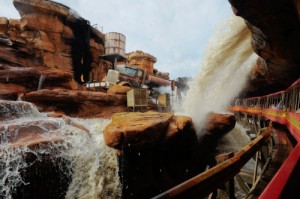 The Studio Backlot Tour will have an almost two month refurbishment, from January 5 – March 1, reopening on March 2.
This week's Limited Time Magic is in celebration of the new Glow with the Show ear hats that are now available at Walt Disney World for Fantasmic! and Wishes.  For guests who purchase these special Ears Hats, they will get a set of vibrant ear clings, complete with 2 sets of stickers, one side that will say good bye to 2013, and one side that will welcome 2014.