DuckTales: Scrooge's Loot
|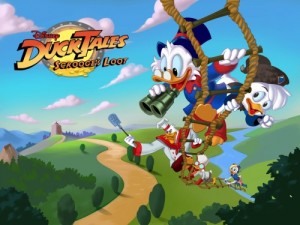 How many of you remember the show DuckTales?  If you are a Disney fan, I'm sure that you have at least heard of it.  It was shown on the Disney Channel in the late 1980s to the early 1990s.  I liked this show because it had Scrooge McDuck with Huey, Dewey, and Louie.  I never realized that Scrooge McDuck was voiced by Alan Young of Mr. Ed fame.  That's cool!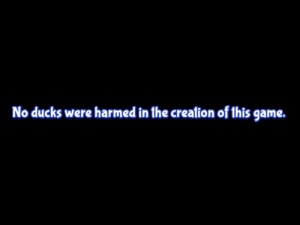 My son wanted to make sure that everyone reading this post knows that no ducks were harmed in the creation of this game.  It's probably a good thing to know with all the ice cream and cake that gets thrown around later.
As with most apps I get to review, I let my kids play with them and give me their opinion before I dig in to take a look at it.  I'm so glad I did that with this app because I never did really get the hang of it.  I just couldn't get a feel of directing which way I wanted to go, so I had to call my daughter over to give me an overview of the game.  To begin with, I think I will let you see the trailer for the game, so you can get an idea of what it's all about.
Don't the graphics look great?!  The kids have had fun with it, but I'm still a little confused by a few things.  There are so many options for "weapons" and outfits.  There is a single-player mode and a multiple-player mode.  It appears that you have to register in order to progress above the 5th level or to play with your friends.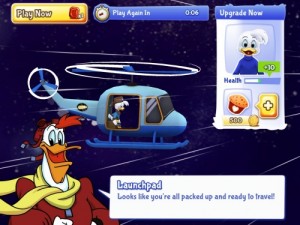 So, the object of the game is to help Launchpad and Scrooge McDuck retrieve as much of Scrooge's gold as possible because it was stolen by the Beagle Boys.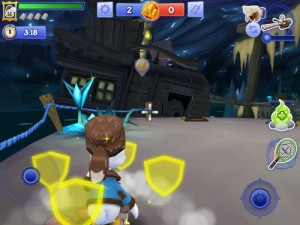 As you walk along trying to find the gold, players from another team are throwing objects at you to keep you from getting the gold.  It was hard to see exactly what was being thrown, but I think I saw at least one banana flying through the air.  I was throwing what looked like ice cream to get rid of the opposite team.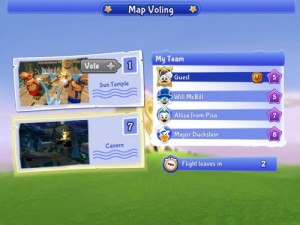 You can vote where to travel to find the gold.  In the case above, I was able to choose between the Sun Temple and a Cavern.  I will say that I found the Sun Temple to be harder to navigate.  Over all, I felt that the directional controls were difficult to use.  It would have made more sense to make use of moving the device to turn and move forward.  However, there was a "dial" on the screen that was used to move, and it gave a jerky motion.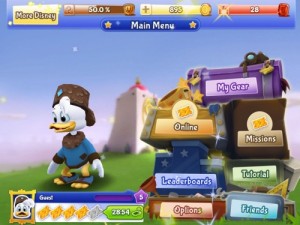 While this game is themed for kids, the game is definitely for older kids to adult.  There are several in-app purchases (all the way up to $49.99, YIKES!), and I found it difficult to discover all the different options.  This game froze up on me several times, and sometimes, it never opened.  I'm not sure if this was due to the update to iOS7 or not, but I will say that I had already upgraded my iOS before trying the game out.  From reading on iTunes, I see that I'm not the only one who has had a problem with the game, so I would bet that Disney is already working on an update to fix the freezing issues.
I tested this app on an iPad 3 and an iPhone 5, both with the new iOS.  DuckTales:  Scrooge's Loot is a free game that is available on iTunes 
Disclosure:  The above app that I reviewed is free of charge, and therefore, there is no need for disclosure.
Similar Posts: