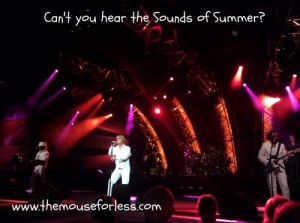 Summer…  Sounds of kids splashing in the pool, pages turning in the book I'm reading, airplane engines revving, and kids screaming on the some of the wilder attractions at Walt Disney World.  Yes, I love those sounds of summer!  But there's something else.  The Sounds Like Summer Concert Series starting this Sunday (6/9/13) at EPCOT.
The Sounds Like Summer Concert Series is a series of concerts performed by some of the greatest tribute bands.  It is a blast from the past: music from the '60s, '70s, and '80s.  Music of U2, The Police, Lynyrd Skynyrd, Bon Jovi, Billy Joel, the Eagles, and the Bee Gees.  These concerts are performed in the open-air American Garden Theater across from The American Adventure.
I haven't been to Walt Disney World during the summer in years due to circumstances beyond my control, but The Sounds Like Summer Concert Series sounds like such a fun addition to a summer vacation.  There is no additional charge for these concerts.  They are free with paid admission to EPCOT.
So, now it comes down to whether you want to sit and listen or stand and dance.  How about a drink while listening to the music?  The Mouse For Less has a list of the Top 10 Adult Drinks at Walt Disney World, and a few of those drinks are located in EPCOT.  You can see the whole list here.  Even though the concerts are held in the evening, it will likely still be hot.  Make sure to find ways to keep cool.  To help you out, we have some great tips to beat the heat.
Don't forget to check the schedule for the Sounds Like Summer Concert Series schedule!  Which of the tribute bands will you get to see on your summer trip?