Happy Birthday, Disney Hollywood Studios!
|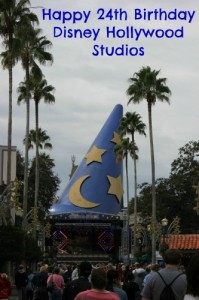 Disney Hollywood Studios (formerly known as Disney-MGM Studios) officially opened on May 1, 1989, so that makes it 24 years old today.  I mentioned that to my daughter who promptly noted that next year would make it 25 years.  I had an idea of where she was going with this, and I was correct.  She quickly said that when the Walt Disney World Resort turned 25, they turned Cinderella's Castle into a giant birthday cake.  Oh, I hope they don't change the sorcerer hat for Disney Hollywood Studios' 25th birthday.
My first visit to then Disney-MGM Studios was sometime during the summer of 1991.  While there are many attractions today that weren't there then, there are still a large number of favorites that have survived the test of time.  Looking back, the original Star Tours was pretty amazing for the time, and I enjoyed the Studio Backlot Tour, too.  Another "oldie" that really was cutting edge is Muppet Vision 3D.  I enjoyed watching that movie frequently, and my kids like it just as much.  And what about Beauty and the Beast – Live on Stage?  I remember seeing that production years ago, and it seems to be just as popular now as it was when I saw it.  I wish I could share some of my pictures from then with you, but I haven't converted them to digital, yet.  While packing for a move, I actually found a photo album the other day that contained quite a few pictures that I took while visiting Disney-MGM Studios with a college friend of mine in 1992.
One of the kids' favorite eating experiences on Walt Disney World property is Sci-Fi Dine In Theater.  Can you believe it?  While the food is good (but not great), they really enjoy the drive-in-movie feel.  If we would let them, they would probably stay longer to watch the shorts on the movie screen, but of course, there are other things to do out in the park.  More things to see and to explore.  After some more exploring, I like to stop at the Writer's Stop for dessert.  There are quite a few choices, but I prefer the cream cheese-filled carrot cake cookie.  We don't normally eat dessert with our meal because it is more than we normally eat at one time.
There are some fun things to do and see at Disney Hollywood Studios.  With the attractions, streetmosphere characters, and eateries,  it is a full day of fun.  I'll leave you with a few of my family's Disney Hollywood Studios favorites.  What is your favorite?