Dreaming of the Monstrous All-Nighter
|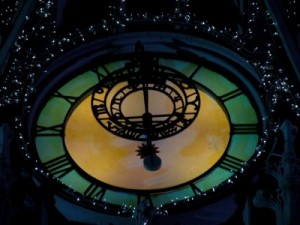 By now, I'm sure you have heard about the All-Nighter happening this week from 6 am Friday May 24th until 6 am Saturday May 25th.  Part of me wishes I could go, and part of me is glad not to go.  You see, 24 hours in the parks is a long time, but it could certainly be a LOT of fun!
My children have very different views on the All-Nighter based on which park they would go to; since, the All-Nighter will occur on both coasts (Magic Kingdom in Florida and Disneyland and Disney California Adventure Park in California).  My son would LOVE to spend Friday in California at Disneyland where he could ride Star Tours all night and meet Star Wars characters in Tomorrowland.  Also, a late-night Character Pajama Party in Mickey's Toontown at Disneyland sounds like lots of fun!  You can find more information on the Disneyland All-Nighter offerings here.
On the other hand, my daughter would prefer to spend her All-Nighter in the Magic Kingdom.  Do you see a problem here?  I'm not sure how I would split myself between two coasts…  My daughter really likes the new Fantasyland, so I'm sure that where she would be hanging out.  She could probably be found at Gaston's Tavern getting one of the Monsters University cupcakes or riding Under the Sea~Journey of the Little Mermaid.
Where would I prefer to go?  I think I would rather go to the Magic Kingdom, too.  Since grad night is happening in Disney California Adventure Park on the same night as the All-Nighter, I think Florida is where I would rather be.  I would love to see the Mickey and Minnie in PJs Meet and Greet.  Also, I would probably make it a goal to see how many of the Monsters University treats I could find. The ones that I've seen pictures of look so cool!  But you know, after a certain time, I would probably be like Cinderella and have to leave.  I wouldn't want to, so what could I do if I couldn't keep going?  How about the Monsters University Movie Night with back-to-back showings of Monsters, Inc?  This was truly a great idea on the part of Walt Disney World!  It will provide a great way for some of us older people to take a break.  You can find out more about the Magic Kingdom All-Nighter offerings here.
So, are you going to one of the Monstrous All-Nighters?  If so, which coast will you be visiting?