Are You Ready for Star Wars Weekends?
|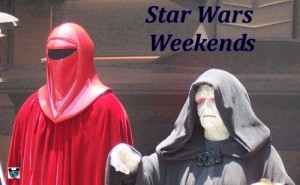 Disney's Hollywood Studios hosts a wonderful party every Friday, Saturday, and Sunday from now through June 9: Star Wars Weekends. Every year the event attracts Star Wars fans to the parks for lots of out-of-this-world fun. There will be a Star Wars-themed parade, guest appearances, special events, and limited-time merchandise.
If you are planning to go, make sure you plan ahead. The Studios gets very crowded on these days. You will definitely want to arrive early. And you might even want to arrive in costume. Many fans choose to wear robes, shirts, or other Star Wars-related garb. Just remember that the weather might be rather warm. No special outfit? No problem! People watching is also fun during these weekends. You will see lots of interesting costumes.
"Legends of the Force: Star Wars Celebrity Motorcade" is a fun way to see all of your favorite characters. My family really enjoys seeing the Disney characters dressed as Star Wars characters in addition to the characters from the movies. Jedi Mickey even opens the parade. I seem to have an obsession with Storm Troopers, and there are plenty of traditional characters available in the parade and throughout the parks.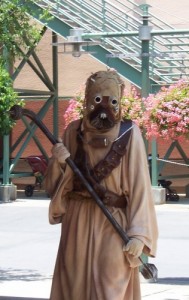 The more villainous characters are a lot of fun. One year, the sand people followed my son (and several other children) around the area. It was fun to see the reactions of both the kids and the characters.  They stay in character, of course, so there are plenty of blank stares and intimidating glances. It's all in good fun, but the little ones may want to know this ahead of time.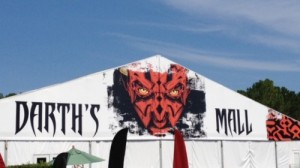 Plus, for any good Star Wars fan, there is merchandise. Lots and lots of merchandise. The shop next to the Star Tours ride is still available, but in order to accommodate the crowds, Darth's Mall opens up near Tower of Terror as well. This huge temporary location offers all you ever wanted in Star Wars merchandise for any souvenir budget. I personally like all of the t-shirts and pins. But there is much more to be had. There are watches, costumes, toys, collectables, and even a droid factory.
Last year there was a new souvenir called "Carbon Freeze Me." Guests were able to have their likeness cast as a 3D image just like Han Solo trapped in carbonite. This year, in addition to being carbon frozen, guests can become Storm Troopers. Guests faces are put on a Storm Trooper figure with various options for skin and hair tones. Both unique souvenirs are available for $99.95 (plus shipping and tax) and should be booked ahead of time by calling 407-WDW-TECH. I really love the Storm Trooper one. Have I mentioned the Storm Trooper obsession?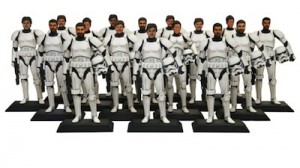 A few words about some of the more popular events – especially the autographs. FASTPASS tickets are given out to a limited number of people who want autographs from the visiting celebrity guests. Star Wars fans will line up early to get a ticket for an autograph. Guests will begin lining up for the more popular autographs as early as 4 a.m. (no, the park isn't open this early). If this is something you wish to do, make sure you plan accordingly. Disney bus transportation isn't running that early (it should begin about 6:45 a.m.), so you will either need to drive or arrange for a taxi.
To be honest, there are lots of ways to tour Star Wars Weekends. But my suggestion is to look over the list of offerings and see what appeals to you. Sometimes we just prefer to walk around and see the characters and fans. Sometimes we actually choose to see a few shows.
Have a great time, enjoy the festivities, and May the Force Be with You!