Walt Disney World Versus Disneyland: Downtown Disney
|
Downtown Disney.  Depending on which you have been to (Walt Disney World or Disneyland), you have visions of your favorite store or favorite restaurant.  For me, I think of the World of Disney or maybe Earl of Sandwich.  Maybe, I think of performers.  While both Downtown Disney's have the same purpose of providing a variety of shopping and eating in one location, each has its own atmosphere.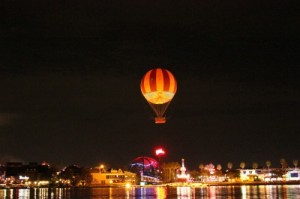 At Walt Disney World, the Characters in Flight balloon flies over head, offering a view of the surrounding area.  Walt Disney World's Downtown Disney seems to be more of a destination in itself rather than just offering shopping and food.  With Disney Quest, Splitsville Luxury Lanes, AMC Movie Theater, the marina, and La Nouba by Cirque du Soleil, one could conceivably spend an entire day there.  There are several places to eat at Downtown Disney, and some of them are more unique than others.  BabyCakes NYC offers baked goods that are organic, gluten-free, dairy-free, egg-free and soy-free but not taste-free.  And who doesn't like Ghirardelli chocolate?  I think my favorite place to eat is Earl of Sandwich.
The Downtown Disney at Walt Disney World also seems to have more shopping opportunities.  No, I don't go to Walt Disney World just to shop, but there are a few places that I really like to look at.  I really like the Disney Design-a-Tee.  We designed t-shirts there a few years ago, and they were the softest t-shirts we have ever had.  No matter which Downtown Disney I am in, I HAVE to spend time in the World of Disney store.  This is definitely a must do, even if I don't buy anything there.  Can you believe I didn't buy anything at the World of Disney store on my last trip?
Downtown Disney at Walt Disney World is spread out and takes some time to get from one end to the other.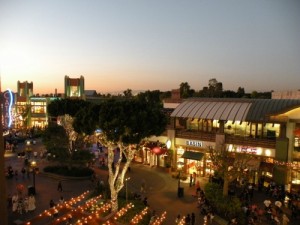 In contrast, the Downtown Disney in Disneyland is more compact.  It spans the area between the Disneyland Hotel and the esplanade between Disneyland and Disney California Adventure Park.  This is not really a destination that has enough activities to entertain for an entire day.  It is really more of a supplement to the parks.  There is an AMC Movie Theater in addition to the shops and restaurants.  The big entertainment value comes at night when the street performers are out.  As I walked from one end of the Disneyland Downtown Disney to the other, I was able to experience different styles of musical performances.  Once I found a performer that I liked, I would just stop and watch.  On one trip, we stayed in Disney's Grand Californian Hotel & Spa.  We stayed in a room overlooking Downtown Disney and were able to stay on the balcony, taking in the sights and sounds of Downtown Disney.  We were also able to watch the fireworks of Disneyland from our balcony.  One thing to note is that we had a performer below our balcony, and we were able to experience that performer's music in our room when we had our door closed, so if you have a light sleeper, you might not want to stay on that side of the hotel.
It doesn't seem like there is as much shopping at the Downtown Disney in Disneyland as the one in Walt Disney World.  Part of that is due to the sheer size difference between the two Downtown Disneys.  There just isn't room to have the same stores in Disneyland's version.  Also, some of the shops seem small and can get crowded inside.  I am also able to get my fix of the World of Disney store, but there seems to be a difference between the two stores.  It may just be the time of year that I've been to Walt Disney World, but I believe that the World of Disney store gets a LOT more crowded at Disneyland.  There is a good explanation for this.  Because people can walk to both parks and Downtown Disney without taking bus or other transportation, people seem to flock to the World of Disney store after the parks close at Disneyland.  If you want to go to the World of Disney store in Disneyland, I recommend going during the day.  I find it a lot more enjoyable.
Now on to the restaurant difference.  Believe it or not, I prefer the restaurants at Disneyland's Downtown Disney better.  One of my family's favorite is actually La Brea Bakery Cafe.  It offers food that both adults and kids in our family enjoys, but the coolest part is that you sit outside.  It is near the entrance to the esplanade between the parks, so it is a great place to watch what is going on.  Another great option for taking in the atmosphere is the Uva Bar in the center of Downtown Disney.
So, which Downtown is better?  This really is a toss-up based on what you are looking for.  Mic Anderson, an agent with The Magic For Less Travel, shared with me that she prefers the Disneyland version of Downtown Disney for the ambiance.  She enjoys just hanging out at the Uva Bar and watching the performers.  I prefer the Disneyland Downtown Disney for its size and ambiance.  I prefer the food choices at Disneyland, and I enjoy an early morning walk through Downtown Disney when heading to Disneyland for Magic Morning.
I prefer Walt Disney World's Downtown Disney for the volume of shopping and the variety of shopping choices.  I also prefer Walt Disney World for the variety of activities at their Downtown Disney.
So, you can see that I am torn between the two.  Which is your favorite and why?