April 16th in Disney History
|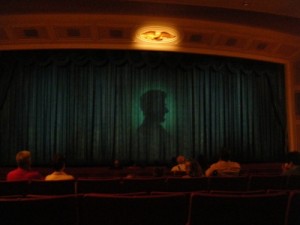 I normally work by a rule of threes.  To write something here, I make sure that I can find at least three sources that agree with the dates I have found.  This one has been a little difficult to nail down.  What am I talking about?  The testing of Great Moments with Mr. Lincoln prior to the 1964 New York World's Fair.  I have read that Great Moments with Mr. Lincoln passed its testing on April 16th.  At least, that is a majority consensus.  One website said 10 days prior to the World's Fair, which would be April 12th.  I do think the date is important; however, what's even more important is the scope and technology that was and is Mr. Lincoln.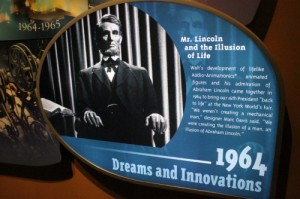 As designer Mark Davis is quoted above, "We weren't creating a mechanical man.  We were creating the illusion of a man, an illusion of Abraham Lincoln."  What seems so striking to me is how realistic they wanted Mr. Lincoln to be and how realistic he actually became.  So, while milestone dates are important, I believe that the accomplishment is much more important in this case.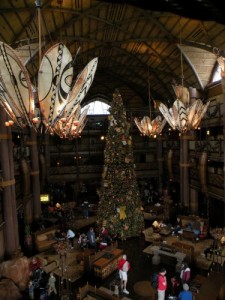 Another milestone today was the opening of Disney's Animal Kingdom Lodge on this date (April 16) in 2001.  Disney's Animal Kingdom Lodge is a Disney Deluxe Resort located near Disney's Animal Kingdom park (which didn't open until April 22).  Disney's Animal Kingdom Lodge is almost a destination by itself.  With the animals roaming in the savannah, there is much to see and do.  Even if you are staying in a standard view room or not even staying at the resort at all, there are plenty of places to be able to view the animals (if they are nearby).  Of course, Disney can't guarantee that the animals will always cooperate…
There are a few places to eat:  The Mara (Quick Service), Boma – Flavors of Africa (Table service buffet-style meal), and Jiko – The Cooking Place (Table Service).  At this point in my life, Boma is my favorite because everyone in the family can find something that he likes, even the picky eaters.  Sanaa is available at Kidani Village, but that part of the resort didn't come along until much later.
I'm a laid-back person who likes to resort-hop and soak in the details at each resort.  Disney's Animal Kingdom Lodge is high on my list for details, and it doesn't hurt that I LOVE watching the animals on the savannah.  Do you enjoy Disney's Animal Kingdom Lodge?  If so, what is your favorite part or activity?