A Great Park Bag – {With Giveaway}
|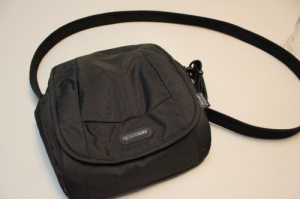 Disclosure:  I received this bag from Pacsafe at no charge for the purpose of review.  I received no other compensation from Pacsafe, and all opinions stated below are my own.
Sometimes, I see people asking what is a good bag to carry into the park.  In the past, my answer has varied depending upon what bag I was using at the time.  I think that over the years I have used them all from fanny packs to back packs.  But each of those bags had one thing in common…  They all arrived at Disneyland or Walt Disney World in my suitcase.  Each time, it was a bag that was only to carry into the parks.
Now, that has changed.  I LOVE my Pacsafe Anti-Theft Shoulder Bag (Metrosafe 200 GII)!  What makes this bag so special is that it has all the security features that I need for traveling through the airports and is still versatile enough to work great in the parks!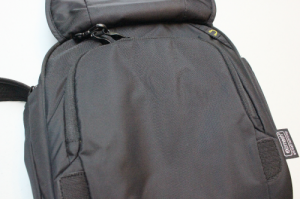 Under the flap, there is a zippered pocket.  See the zipper pulls at the top?  They are clipped together to keep them under the flap and away from people trying to get into your bag.  I should also mention that the strap is reinforced with stainless steel wire which prevents it from being easily cut.  The bag is also lined with stainless steel wire mesh panels which should help keep your valuables in the bag if is it slashed by a would-be thief.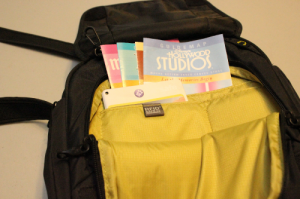 When the zippered pocket is opened, there are a few pockets, one of which protects the RFID information on your passport and credit cards.  If you look just to the right of the top of the park maps, you can see the flap that ear phones can go through, so the iPhone or other device playing music can stay safely in the bag.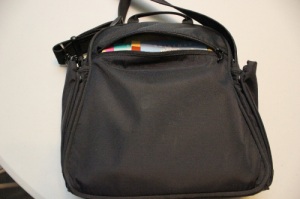 There is a back zippered pocket that is just the right size for park maps.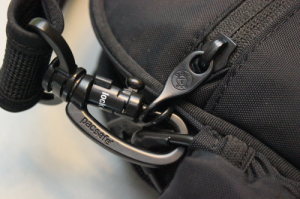 The strap is permanently attached to one side, but there is a "lockable" hook on the other side.  That way, it is easy to "lock" it to a chair or table or something like that.  It doesn't actually lock, but it twists so that it would take time for a would-be thief to figure out how to disconnect the bag from the chair or whatever it was attached to.  Frankly, this bag is small enough that I just wear it and go.  That is one of the things I like most about it.  I can wear it knowing that my valuables are secure and am able to focus on my kids more.
Here is one of the reasons this bag is perfect for travel from plane-to-park!  Look at all that room in the middle pocket!  I have a bulky case on my iPad, but it still fits in the iPad sleeve of this bag.  There is still plenty of room for snacks, point and shoot cameras, and keys if needed.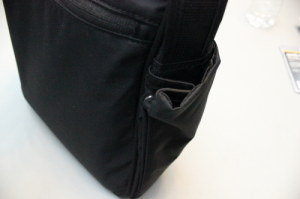 Even though this is a compact bag, there still is plenty of room for much of what you would need in the bag.  See the pocket above?  It is made more streamlined by being snapped shut.  There is another one on the other side.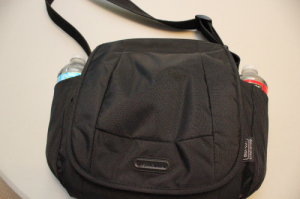 When the pockets are open, they provide room for two water bottles.  Lots of room to carry everything that most people would need for a day in the parks!
I really like this bag, and it is now my official bag for travel to and at the Disney Parks!
The Pacsafe Anti-Theft Shoulder Bag Metrosafe 200 GII can be purchased for $80 (plus shipping and any other applicable fees).
Disclosure:  I received this bag from Pacsafe at no charge for the purpose of review.  I received no other compensation from Pacsafe, and all opinions stated below are my own.
Good news!  We have one of these bags to give away in celebration of The Mouse For Less' 14th Birthday celebration!    Please read the rules and enter via the Rafflecopter below.
Rules: Giveaway starts at 12:00 am Eastern on March 16, 2013 and ends at 12:00 am Eastern on April 1, 2013. Open to U.S. residents 18 years old and older. Shipping to the US only.  No purchase is necessary to win. Void where prohibited. Odds of winning depend on the number of entries collected. The winner will be chosen by Random.org via Rafflecopter and will have 5 days to respond after being contacted by email.  Please make sure to use a valid email address. Facebook, Twitter, Pinterest, and Google+ do not endorse this, nor sponsor this giveaway. Nor are Facebook, Twitter, Pinterest, or Google+ affiliated with this giveaway in any way.  Entrants are asked to give a tip for touring Walt Disney World with kids.  This is not mandatory, and the tips may be used on The Mouse For Less website.
Similar Posts:
Incoming search terms: