Monsters, Inc. Storybook Deluxe
|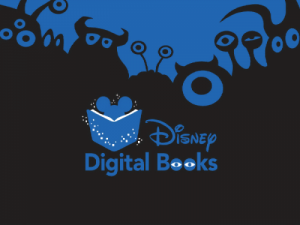 Isn't that a cool graphic?  That's the picture that comes up briefly when the Monsters, Inc. Storybook Deluxe app is opened.  Don't blink because it goes away very quickly!  The story starts with a quick run-through of Monstropolis and the fact that it is powered by screams.  Then, I was asked to scream to begin the story.  Since everyone was asleep, I was a little afraid of waking them up.  As I waited, I was prompted to scream a couple more times before the voice said that there were probably parents or teachers around, and he screamed for me.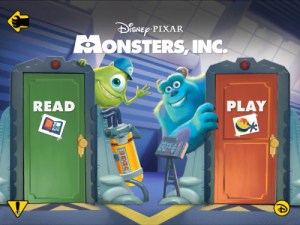 I had to decide to read the story (have it read to me, in my case) or play a game.  I chose to hear the story first.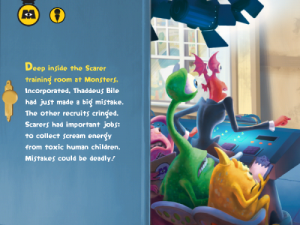 Each story page begins in split screen with the words on one side and the picture on the other.  Using a stylus (finger would work), I pushed the words aside to see the entire picture.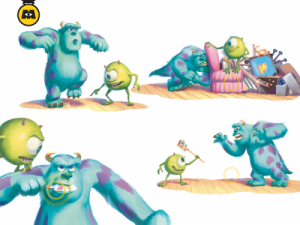 At  points in the story, yellow circles appeared.  The purpose was to have me click for a certain action.  When I clicked on the lower left-hand picture, that section came to the foreground, and Sully brushed his teeth.  The pictures are a combination of drawings and…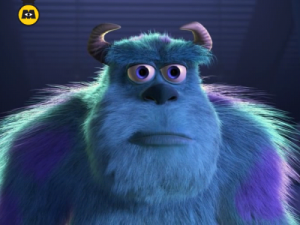 pictures from the movie.  Look at how clear the hair is!  When there was a picture from the movie, it also included an extremely short section of video.  While the story was condensed, it did seem to keep the important points, so it seemed as if the entire story were there.
After I read the story, I headed over to play the game.  It is a scarer simulator.  I was able to choose the monster I wanted to play the game.  First, I chose Sulley.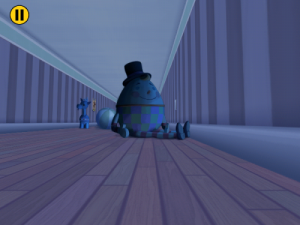 I had to navigate a room with toys tossed everywhere without touching any of the toxic toys.  They are human toys, so they are all toxic.  I had to navigate by tilting my iPad back-and-forth.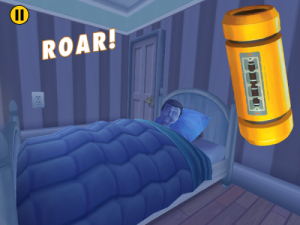 When I made it to the child's bed, I was supposed to roar.  Well, the kids were sleeping, so I couldn't really roar because I would have to be loud enough to get the canister full.  It did finally give me a score, though.  There are three game levels to challenge kids of all ages:  student, trainee, and scarer.
This was a really fun app!  I'm a huge Monsters, Inc fan, so that may taint my point of view.  However, I did like how Disney Publishing Worldwide Applications combined drawings and movie clips together.  If you want to introduce your kids to Monsters, Inc. or if your kids are Monsters, Inc. fans, this would be a great addition to your app library!
Monsters, Inc. Storybook Deluxe specifics:
Cost – $6.99
Compatible with a variety of iPads, iPhones, and iPod Touch.  Verify that your device and software are compatible.
Disclaimer:  I received this app free of charge.  I received no other compensation from the app developer, nor was I required to give a positive review.  
Sponsored Ad:  Would you like to help support The Mouse For Less website in continuing their mission of being THE Disney vacation planning resource?  You can do so by purchasing Monsters, Inc. Storybook Deluxe from our affiliate link.
Similar Posts:
Incoming search terms:
monster inc scarers
monsters inc app
monsters inc books
monsters inc children being woke up
monsters inc simulation
monstersinc
scarer monsters inc