Some Favorite Walt Disney World Table Service Experiences
|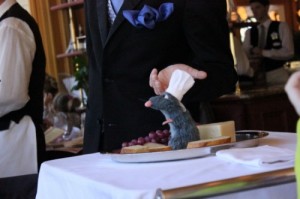 When we were at Walt Disney World in November, we ate at several Table Service restaurants.  We did one per day with the exception of one day that had two sit down meals.  Obviously, that worked out to several meals, but there were a few of them that really stood out to me, not just because of their food, but because of the interaction and uniqueness.
The first highlight was Les Chefs de France.  We had timed our meal around when Remy would likely be out chatting with guests.  As Remy got closer, the kids watched intently.  When Remy arrived, the kids were able to carry on quite a conversation with him until it was mentioned that we have a cat at home.  At that point, Remy felt he needed to move on.  However, it was a very enjoyable time, and the food was pretty good.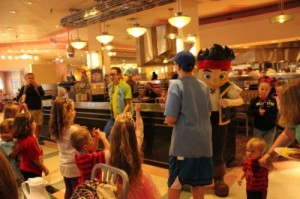 The character meal that really impressed me was Hollywood and Vine for breakfast.  Now, I will admit that I really didn't want to do this character meal, but my son begged for it.  He has always like Handy Manny, and he loves Jake and the Neverland Pirates.  He finally talked us into it, and I snagged an early time.  In fact, when we got there, we were one of the first families seated.  It was loud.  Louder than I thought my son would tolerate…  But he had a great time because of all the interaction.  A couple of the other character meals we did just paraded the kids around the restaurant as extra interaction.  Hollywood and Vine still had singing and dancing with the characters.
The food was good, but there was one thing that I wish I could have grabbed a dozen of to snack on later.  There were these rolls that were a cross between cinnamon rolls and cream cheese danish.  They were SO good!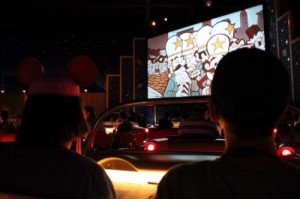 There is a "must-do" restaurant on our list:  Sci-Fi Dine In Theater Restaurant.  The food is good but not spectacular.  However, the kids like it because of the "drive-in" style tables.  They enjoy the movies on the screen a little too much, but it is something unique.  That's why they like it so much.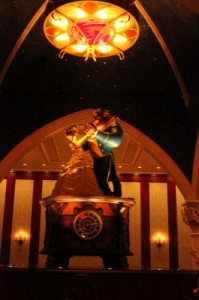 What post like this would be complete without mentioning the Be Our Guest Restaurant?  We ate there for lunch, so it wasn't "officially" Table Service; however, they do deliver the food to the table.  That makes it a good "sit-down" choice for me!  The theme is so well done, and the food was really good.  Well, the kids didn't really like their spaghetti too much, but I really enjoyed my vegetable quiche.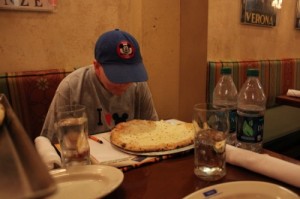 My final favorite is Via Napoli.  Like many places in World Showcase, the cast members are native from the county that is represented.  This presented a little language barrier in our case.  My son is a very picky eater, and he will not eat pizza with sauce or green spices.  He likes it plain, just cheese and crust.  When we tried to explain this, the cast member thought we were talking about an allergy and got the manager.  This was actually a good thing because we were able to explain our needs to her, and she was able to tell the cast member in a way that he understood.  The short version is that my son got his pizza just the way he wanted it.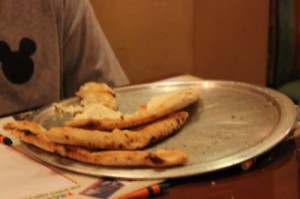 This was not a kid's size pizza.  It was actually an "Individual" size from the regular menu.  As you can tell, they fixed it just the way he wanted it, and he ate it all but the crust.  That was one hungry boy!  I don't think I could have eaten all of that, but that's what happens at the end of vacation after several days of playing hard at Walt Disney World.
These are a few of our favorites.  What favorites do you have?
Similar Posts:
Incoming search terms:
disney hollywood and vine kids meals pictures