Our Experience with Agent P
|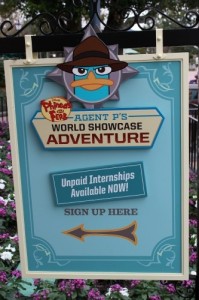 My son has wanted to do Agent P's World Showcase Adventure at EPCOT ever since it was announced as taking the place of Kim Possible.  While we were planning our November trip, he begged for us to add Agent P to our itinerary, so we found a good day to slip it in.
On the planned day, we had breakfast at Akershus Royal Banquet Hall before World Showcase opened.  We finished eating and headed toward the nearest recruitment center near Norway.  Soon they were ready to hand my son (also known as Agent J) his F.O.N.E. or Field Operative Notification Equipment.  First, we were off to Mexico.  Let me just say that I did not participate in the Mexico adventure because…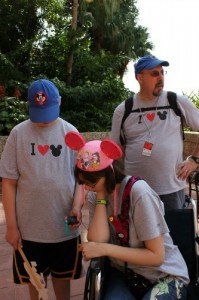 it is REALLY hard to get two heads in to see what is happening on the F.O.N.E. and even harder to fit four heads in to see what is going on.  I did hear that they had fun on the Mexico mission, but I'm not really sure the "teenager" did.  She is not a Phineas & Ferb fan.  After this mission, we decided to turn the F.O.N.E. in and continue with our mission to extensively tour every pavilion that day.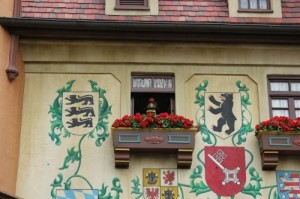 When we got to Germany, Agent J decided that he NEEDED to participate in another mission, so the "teenager" went to pick out her beads that were made from recycled park guides while Agent J and I went to save Germany from Dr. Doofenshmirtz.  We picked up our F.O.N.E. and found out that Doofenshmirtz was going to take over a small German town and become its mayor.  As we stood in the center of the Germany Pavilion, we saw Agent P peeking down at us from the window.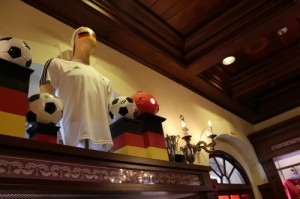 We were directed to several different places and asked to foil Doofenshmirtz' plans.  Agent J had loads of fun following the clues to look for each spot.  The one complaint I had was that the buttons to replay a message and to repeat a special effect didn't seem to work on our F.O.N.E.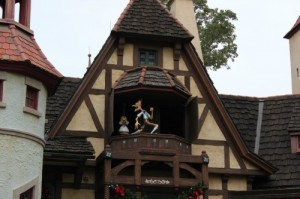 And at the end, Agent J did help Agent P defeat Doofenshmirtz' plans and save the small German village from being taken over.  Agent J LOVES Phineas & Ferb.  Well, I guess I should put it that he really likes the Agent P character, so this game was just right for him.
Similar Posts:
Incoming search terms:
agent ps world showcase adventure