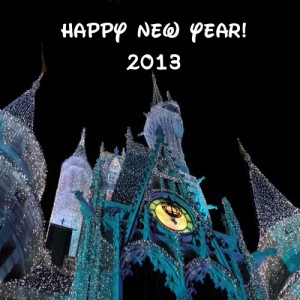 Happy New Year to our Mouse For Less family!
This is the time when many people make goals or resolutions for the New Year.  Have you made yours, yet?  I've thought about mine for some time, now, and I think the biggest goal is to spend more quality time with my family.  It doesn't have to be anything big.  Maybe a few more family nights, and it can be something so simple as playing more games together.
My daughter got a new game from Santa this year.  It's called Disney HedBanz.  Have you seen this game?  It is SO much fun!  My daughter wanted to play it on Christmas afternoon, so she opened it up and got it all ready for us to play.  It is a simple game, but it really takes some thinking.  Each person has a headband on.  When each person gets his card, he doesn't look at it but puts it in the headband facing out, so everyone else can see it.  Play starts with the youngest player.  The player asks questions that can be answered "yes" or "no" in an attempt to figure out who is on the card.  There is a timer with this game, but we didn't use it.  It was more fun to just take our time asking questions and laughing at who or what the card was.
Just some time together.  Speaking of time…  Disney had a new sweepstakes out in which they are giving away one vacation per day for 31 days.  Talk about some family time!  Wouldn't that be neat?  Here is the link:  http://www.disneytimesweeps.com/  Good luck!