On our leisurely trip around World Showcase in EPCOT, my daughter spied these beads hanging in a small booth between China and Germany.  Knowing my daughter and her affinity for watches, jewelry, and any trinket that's colorful and shiny, I figured we would be stopping and looking for quite some time.  Actually, there were lots of these necklaces and bracelets hung neatly by color.  As I looked further, I saw that this was more than "just some jewelry".  There was some meaning behind it.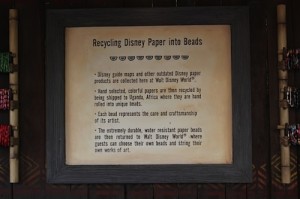 You know, I always wondered what they did with all the maps that became outdated due to season or park refurbishments.  Well, this sign tells the story.  They take outdated maps and other colorful Disney papers, and then, they take the hand-selected colorful paper and ship it to Uganda where they are hand-rolled into colorful beads.  I had heard of women in Uganda making beads like this, but I had never seen them before.  This is such a COOL way to recycle!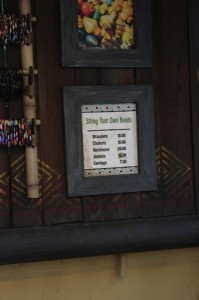 Here it gives the prices for stringing your own beads.  My daughter decided she wanted to buy a bracelet, but she didn't string her own.  She went through all the pink ones until she found just the right one for her.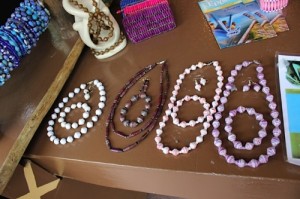 There were a lot of choices, and they even had matching sets laid out.  In the upper center of the picture above, do you see the purple object with the pink top?  That is a coin purse.  It was pretty, but I was afraid that the beads might fray over time with it riding around in my purse.  Otherwise, I would have bought one of them.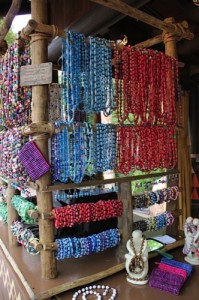 There were so many different colors, and the visual display was so eye-catching.  We really could have stayed longer to look, but Agent P was calling us to Germany.  My son felt that Agent P was more important than these beads.  Hmmm…  I suppose I'm not surprised.
Have you purchased any jewelry here?  If so, how did yours hold up?  Were you able to make out any words on the beads?
Similar Posts: