Princesses, Princesses Everywhere
|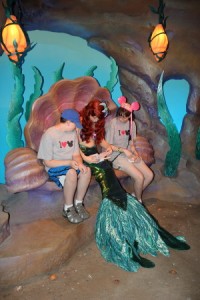 When we got ready to go to Walt Disney World, I made the kids their own personalized autograph books made of lightened pictures from previous trips.  I enjoy making these because it seems like many of the characters take extra time to look at the pictures, like Ariel in the picture above.  And, quite often, I put way more pages in than autographs that we get.  It just happens that way, but I think that on this last trip, we had fewer pages left than we have during previous trips.  Why, you might ask?
Well, we did something that we certainly didn't start out to do, nor do I think we have done in the past.  We ended up seeing every princess.  I know that many of you probably have done this before, but we didn't really set out to get a lot of character autographs.  We do a few character meals, so we don't have to wait in the lines for characters.  If we see short lines, we'll hop in line, but we don't normally plan around where the characters are.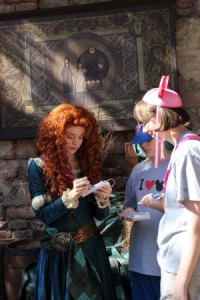 Merida was definitely one we really wanted to see.  I stayed in line while my husband took the kids off to do something else.  It was probably one of the slower moving character lines I have been in.  Once we did get into the area where Merida was, there were activities, like shooting an arrow, for kids to do.
We happened by Town Square Theater and saw that the princesses only had a 5 minute wait, so we went in there and saw Rapunzel, Aurora, and Cinderella.  We walked by Tiana after stopping at a Sorcerer of the Magic Kingdom spot.  Since she had a short line, we saw her, too.  We saw Mulan in EPCOT, Jasmine at Mickey's Very Merry Christmas Party, and the others at Akershus.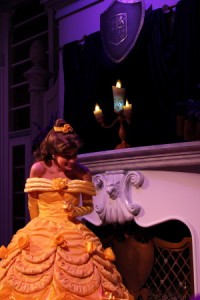 While we got Belle's autograph at Akershus, we really enjoyed seeing Belle at Enchanting Tales with Belle.  The show was so interactive!  My son got to be a laughing picture, and my daughter got to be the singing wardrobe.  Belle even complimented my daughter on her voice.
I don't want anyone to misunderstand.  I do like Disney Princesses.  It was just surprising to get home and realize that we had actually gotten all the princesses without even trying.  Have you ever accomplished something at Disneyland or Walt Disney World that you didn't try to and were surprised when you realized what you had done?
Similar Posts: