Holiday Disney App Sale
|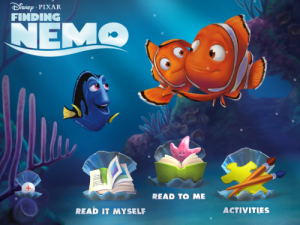 Apps, especially Disney Worldwide Publishing Applications,  have become a big part of my life for several reasons.  The first reason is that when I have to take my kids somewhere they have to be quiet for some time, like the bank, they can play quietly on an iPhone or iPad.  Secondly, when traveling takes longer than expected (i.e. our unexpected longer layover in Charlotte, NC), that same iPhone or iPad can be used to calm my son as he waits longer for the flight.  Thirdly, they are just plain fun and can be educational, too.
Starting tomorrow (December 21, 2012) and lasting through January 2, 2013, Disney Publishing will be "offering a special price for all of its Storybook Deluxe apps in iTunes."
The normal price for each of these apps is $6.99, but from December 21, 2012 through January 2, 2013, these apps will be priced at $2.99.  My information said that "all" Storybook Deluxe apps will be on sale, but only the above 4 were listed.  If there is another Storybook Deluxe app you are looking for, I would certainly check iTunes to see if it is discounted, too.
These apps would be great for your holiday travels, to keep the kids occupied while you are cooking the holiday meal, or for stocking stuffers.  Stocking stuffers?  Well…  Obviously, you can't put the app in the stocking, but you could leave a note from Santa saying that there is a new app to play with on 'Mommy's" iPad.
Don't forget to check the device requirements because they may have changed between when the reviews were written and now.  Happy shopping!
Similar Posts: