Cars 2 World Grand Prix Read and Race
|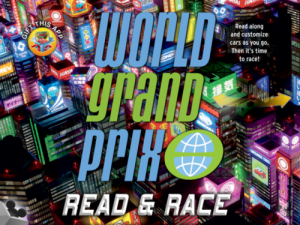 Cars 2 World Grand Prix Read and Race is an app by Disney Publishing Worldwide Applications.  It's not a new app, but it is certainly worth a look for those big Cars fans in your family.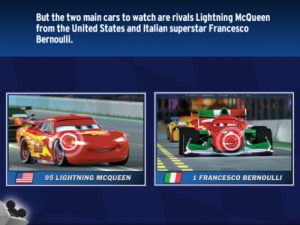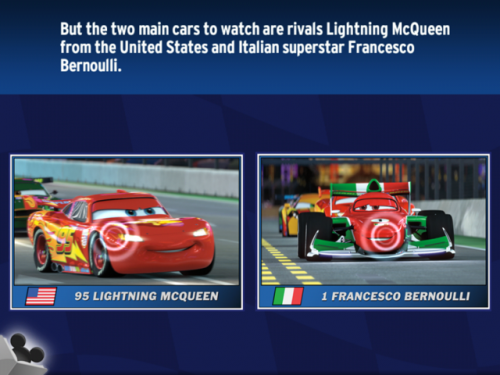 This app focuses strictly on the racing aspect of the story.  In fact, Mater doesn't really take much of a part until the very end; although, he is mentioned a couple of times.  Do you see those circles on Lightning McQueen and Francesco Bernoulli?  When those circles appear, it means you can touch them to hear the racing sounds or see the picture a little more close up.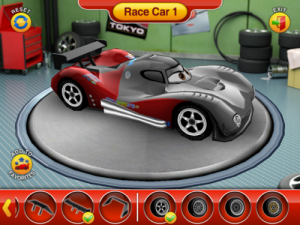 Throughout the story, I was given the opportunity to design 5 race cars and save them to my favorites.  There are only 4 different choices in each category (i.e. 4 different paint designs), but with 6 different categories to customize (i.e. tires), it made for many different combinations.
This was one of my favorite pages in the entire app!  After the page was read, it showed fireworks going off.  Then, I was able to touch the screen in different spots to produce fireworks, too.  Do you see the Mickey head?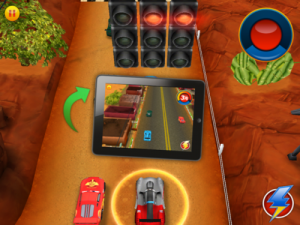 After the story was over, it was time to choose one of my race cars that I made, so I could race.  Not only was I able to choose the race car, I was able to choose the race track, too.  Japan, Porto Corsa, London, or Radiator Springs.  Of course, I chose Radiator Springs.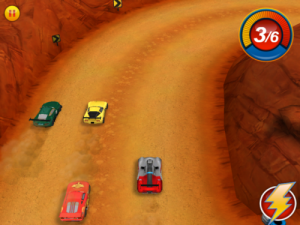 Here, my car is on the far right.  I was in 3rd place, but I ultimately won the race.  Why?  Well, there are different categories: Easy, Normal, and Hard.  I knew I had to do Easy in order to take photos, and the Easy level made the cars slower.  The steering was very responsive but not overly so.
I think Cars 2 World Grand Prix Read and Race would be a great addition to your iPhone or iPad if you are traveling over the holidays.  Well, it would be good even if you weren't going anywhere, but it would be a great app to amuse your son (or even your daughter) during a trip, too.
Cars 2 World Grand Prix Read and Race sells for $6.99 and is compatible for iPad, iPhone, and iPod Touch.  As always, please check the requirements to make sure that you have the device and updates needed.  I tested this app on an iPad 3 with the current iOS.
Disclaimer:  I received this app free of charge for the purpose of this review.  I was not compensated by the makers of this app, nor was I required to give a positive review.  There are affiliate links contained within this post.
Incoming search terms: