Wreck-It Ralph Storybook Deluxe
|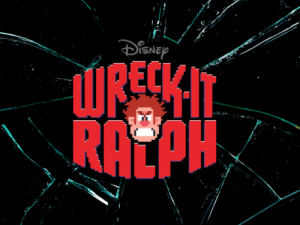 Have you seen Wreck-It Ralph?  I haven't yet, but I hope to before it leaves theaters.  Or else, my son might not be too happy with me.  See, Wreck-It Ralph came out the weekend we left home to head to Walt Disney World, and we didn't want to give up any park-time to see a movie.  Also, I really wasn't sure about the movie.  I hadn't really paid too much attention to the information about it and wanted to read more about it before taking my son to see it.
Well, I have checked out the Wreck-It Ralph Storybook Deluxe app by Disney Publishing Worldwide Applications, and it is COOL!  And now, I need to see the movie, too.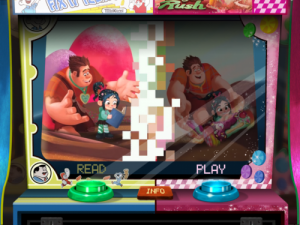 To start off the app, I had the choice between reading the story or playing.  While I really wanted to play, I wanted to see the story, too.  Keep in mind that I have watched the kids tilt the iPad back-and-forth while playing a game, and I wanted to try it, too, but I decided to find out what the story was all about first.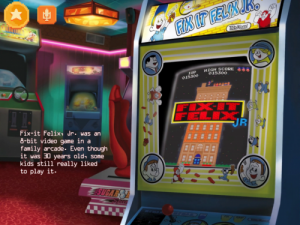 If you don't know the story, this is about a video game called Fix-It Felix, and like the name says, Felix fixes things.  Of course, Wreck-It Ralph breaks things.  Felix is a hero, and Wreck-It Ralph is not, so Ralph wants to become a hero, too.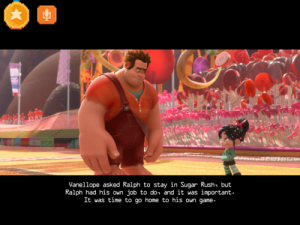 Wreck-It Ralph leaves his game and enters first one game and then another.  The second game, named Sugar Rush, is where he meets Vanellope.  Vanellope wants to win a race, and Wreck-It Ralph wants to help her until…  If you haven't seen the movie or read the story, you really ought to.  The story was a lot of fun, but I certainly don't want to ruin the story for anyone who still wants to go to the theater to see it.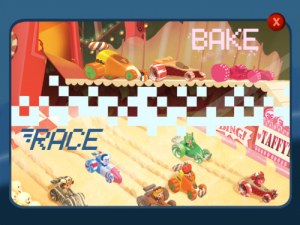 After reading the story, I went back to the menu and clicked the "play" option.  I wondered what the "bake" option would be, so I clicked it…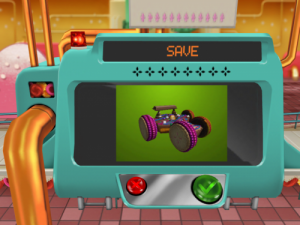 and found a place to "bake" my own race car.  I got to choose my tires and the different decorations on it.  I could then save it to use in the "race" section.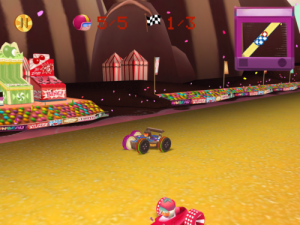 And look, there's my car that I made.  Then, we lined up for the race.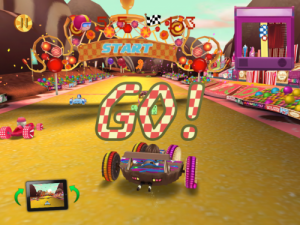 And soon, it was time to start!  As you can see in this picture, you "steer" the car by rotating the iPad back-and-forth.  Yes, I probably had too much fun playing this game, but it was addicting!  As I said earlier, both my kids have enjoyed playing this game, even my teenage daughter.  It was THAT fun!
The Wreck-It Ralph Storybook Deluxe app is available for iPhone, iPod, and iPad.  The cost is $6.99, but considering this driving game might keep your children occupied on that lengthy road trip to grandma's house over Christmas, it is well worth $6.99.  It works well in the airport, too.  Yes, this is personal experience talking.
Disclaimer:  I received a copy of this app free of charge for the purpose of this review.  I was not required to give a positive review, but the hours of enjoyment my kids have had with this app does tend to sway this review to a solid highly recommend. 
Similar Posts: