Wreck-It Ralph: Hero's Duty Interactive Comic
|
Did you see Wreck-It Ralph?  I finally got to see it earlier this week, and I really enjoyed it.  At the end of the movie, my son loudly proclaimed that we were going to buy the Blu-ray.  It might be a while before it comes out on Blu-ray, though.  If you saw the movie, did you wonder where the cy-bugs came from?
Wreck-It Ralph:  Hero's Duty Interactive Comic is a prequel to the Wreck It Ralph movie and tells the story of the Hero's Duty game.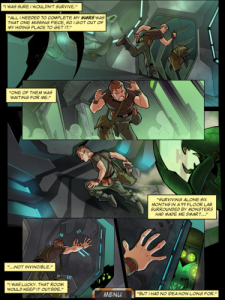 The story is told in 22 interactive comic pages, and it can be read panel-by-panel or on autoplay.  There is music and sound effects in each panel, but you can also turn the sound off in the settings if you want.
There really isn't a lot to the Wreck-It Ralph:  Hero's Duty app other than the story.  I did not see any extras anywhere, but this is probably why it is only $1.99.  It was nice to find out how the cy-bugs became a problem, though.
I do want to point out that this app is "Rated 9+ for Infrequent/Mild Cartoon or Fantasy Violence".  It probably isn't much worse than the movie itself, but I did want to point that out.  This app is compatible for iPhone, iPod Touch, and iPad, but as always, please make sure that your device is compatible.
Disclaimer:  I received this app free of charge for the purpose of this review.  I was not required to give a positive review.  There are affiliate links contained within this post.
Similar Posts:
Incoming search terms:
hero\s duty
hero duty prequel comic read