Mickey Mouse Clubhouse: Mickey's Wildlife Count Along
|
Mickey Mouse Clubhouse:  Mickey's Wildlife Count Along app from Disney Publishing Worldwide Applications teaches early math and science concepts to the Mickey Mouse Clubhouse set of fans.  This app teaches sequencing, counting from 1-10, more than and less than, and numeral matching.  It also teaches the concept of animals and their habitat.  Let me show you some of the cool places Mickey and his friends drive through!
To start with, Mickey and his friends are going to take a trip to the beach.  After they load up the car, they drive down the road.  Yes, the car does actually appear to be driving.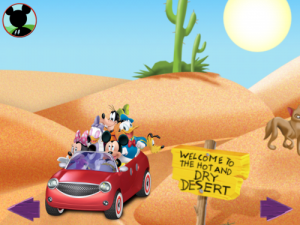 But this doesn't look like the beach, does it?  No, Mickey missed his turn and ended up in the Dry Desert.  While it appears that Mickey didn't read his map well before he left home, it does make for a very interesting drive.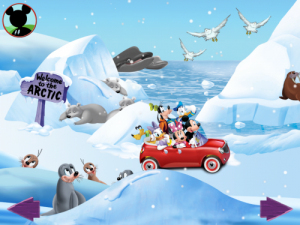 From the Dry Desert, we travel to the Arctic where we meet more animals.  In each location, we count and learn about more animals.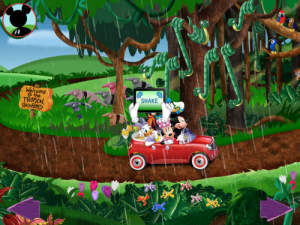 In a couple of the locations, I was asked to shake the iPad.  While it provides a cool effect, like the rain above, it just doesn't seem like a good idea for a young child to be shaking an iPad.  I just wanted to warn you about this part, so you can be ready to help.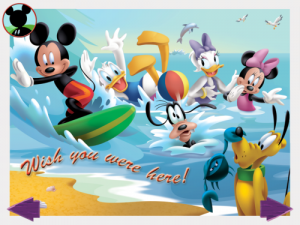 Finally, they made it to the beach, and everyone had a great time.
Mickey and his friends traveled through five habitats and counted animals who live in those habitats.  At the end of the app, I was asked to match animals to their rightful habitat.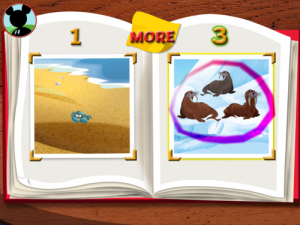 I was also presented with a few problems involving less than and more than, and I was asked to circle the correct answer.
I feel Mickey Mouse Clubhouse: Mickey's Wildlife Count Along is very well put together.  It is engaging; although, it may be limited in its ability to bring back a child over-and-over again.  It is only $1.99, so I do think this app is worth the price.  It is available for iPhone, iPod Touch, and iPad.  Please verify that your device is listed as being compatible.
Disclaimer:  I received this app free of charge for the purpose of this review.  I was not required to give a positive review, nor was I compensated by the person providing the app.  There are affiliate links contained within this post.

Similar Posts:
Incoming search terms:
mickey mouse in car
mickey mouse on the beach