Disney Family Deals Giveaway
|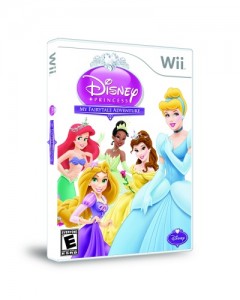 Disney Princess: My Fairytale Adventure had arrived for her to try out on the Wii, she was really excited! She begged to try it out right away, so I let her. She played it for a little while, and then, her brother decided that he would like to join her.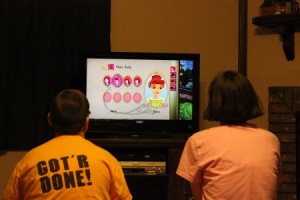 There is so much that can be customized on the main character in the game. From skin color (Who knew skin color could cause discord between siblings?) to hairstyles, there was so much to choose before even looking at outifts.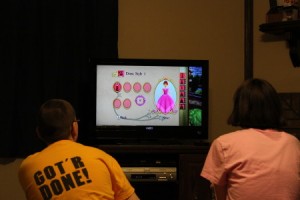 And when they got to outfits, they got to choose different dress styles, colors, and accessories. I think I even saw an option for a change of mouth shape. They were moving so fast through customizing the main character that I had a hard time keeping up.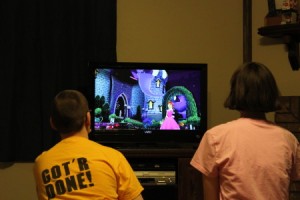 The main character in this game is an apprentice of the Fairy Godmother. The apprentice practices her magic out in the garden. Sprites care for the garden and are accidently changed into imps by the magic from the apprentice. The imps are mischievous in nature and find their way into the kingdoms of Ariel, Cinderella, Tiana, Belle, and Rapunzel.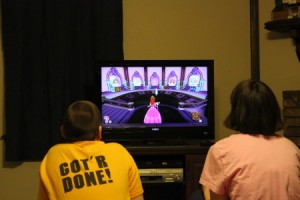 The apprentice must visit these princess worlds, change the imps back into sprites, and return the sprites back home. My son was able to join in as a second player to use his magic to help his sister change imps-to-sprites and collect treasure to use to…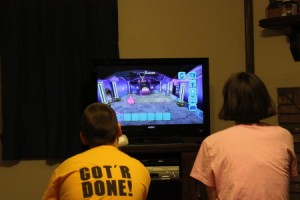 decorate her room in the Fairy Godmother's Castle. Gems that are collected throughout play can be used at the "Wishing Well" store to trade for outfits, accessories, and tiaras to provide extra combinations for customizing avatars. The gems can also be traded for special items to customize the player's room in the Fairy Godmother's Castle.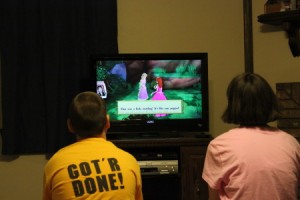 One of the kingdoms the kids visited was the world of Rapunzel. Here, an imp was causing problems with paint in the tower.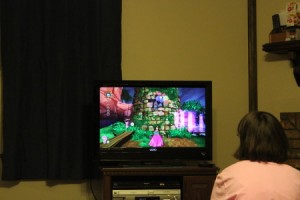 The imp had gathered paint pots on the outside of the tower and was throwing them down; however, he was not only throwing paint pots. He was throwing other things, too. The apprentice was supposed to catch the paint pots but nothing else, so it took some quick thinking on the part of the apprentice.
What did we think about Disney Princess: My Fairytale Adventure? Both kids enjoyed playing it, which really surprised me. I really didn't think my son would have as much fun as he did, so I was a little surprised at that. He was disappointed he wasn't able to customize his character as the second player, but that was ok because big sister let him be the primary character sometimes. I did look online to see if we were just missing something, but I couldn't find the answer. The game comes with a Customer Support telephone number, so I may call it to find out if all players can customize .
This game is Rated 'E' for Everyone by the ESRB. I would agree with this rating. I really didn't see anything scary during the parts that my kids played. Disney Princess: My Fairytale Adventure is available for Wii, Nintendo 3DS, Windows PC, and Mac. Suggested Retail prices are $39.99 for Wii and Nintendo 3DS and $29.99 for Windows PC and Mac versions.  Find this and other deals at Disney FamilyDeals.com.
Facebook.com/DisneyFamilyDeals
Twitter.com/DisneyFamDeals
Buy Disney Princess: My Fairytale Adventure at Disneystore.com.
Would you like to win your own copy of Disney Princess:  My Fairytale Adventure?  First, read the rules, and then enter via the Rafflecopter widget.
Disclaimer:  I received this game free of charge for the purpose of this review.  I received no other compensation from Disney Family Deals who provided this game to me.  The opinions stated above are my own and are only influenced by how well my children enjoyed playing this game.
Similar Posts:
Incoming search terms:
DisneyFamilyDealsGiveaway