Wordless Wednesday: Cars and Neon, Great Together
|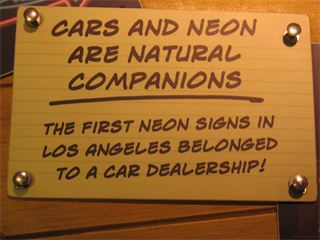 Found this bit of trivia above in an exhibit at the entrance to Carsland. I'm too inquisitive not to find out more about it!
Here's what I found:
"In 1923, Georges Claude and his French company Claude Neon, introduced neon gas signs to the United States, by selling two to a Packard car dealership in Los Angeles. Earle C. Anthony purchased the two signs reading "Packard" for $24,000."
That's over $300,000 USD in today's money!
http://inventors.about.com/od/qstartinventions/a/neon.htm
Similar Posts: