Finding Nemo Interactive Comic
|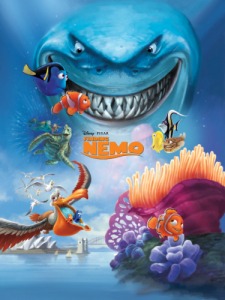 That sure is a vivid picture, isn't it?  The Finding Nemo Interactive Comic app uses vivid colors throughout!  Imagine a comic book that you can see extra pictures in and learn to draw the characters in…  This sure isn't the type of comic book I grew up reading…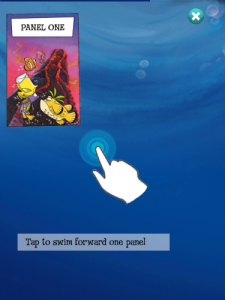 Disney Publishing Worldwide Applications starts this iPhone, iPod Touch, iPad app off with a few basic instructions.  While I have one other app of this type, I sure appreciated the instructions and enjoyed how the instructions were themed to the story.  Also, the music and special effects can be turned on and off in the settings menu.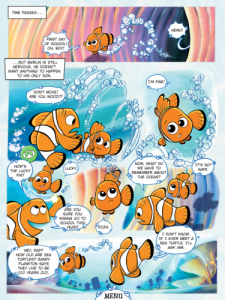 Each story pane comes in until the whole page is filled up like a "normal-looking" comic book page.  See the green dive mask in the page above?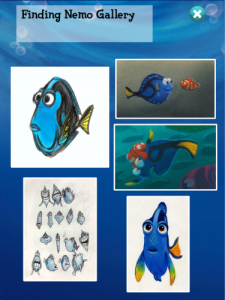 The green dive mask leads to a page similar to this one with characters from the comic page.  The drawings and paintings by artists from the movie sure are interesting to look at.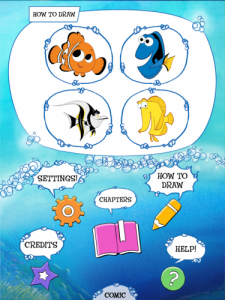 For the budding artists reading this, there is a "How to Draw" section in the menu.  I tried it, but I will be the first to admit that I have never been known for any sort of drawing ability.  Having said that, I actually didn't do too poorly because it really is set up to help a person learn how to draw it correctly.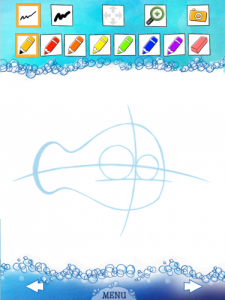 I chose to draw Nemo, and this is the first pane to trace.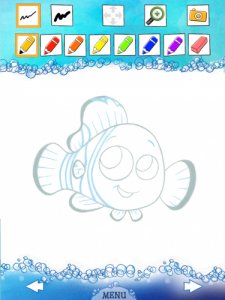 Eventually, the app adds in all the lines, little-by-little that need to be traced.  After all the tracing is done, the lines disappear, and the drawing is left behind.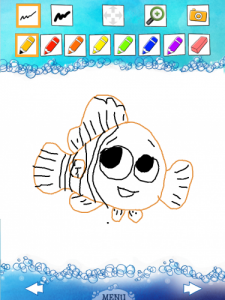 So, keep in mind that I did this left-handed, but it really wasn't that bad.  It was actually kind of fun.  Next time I try it, though, I think I will use my right hand…
I really liked the colors in this app, and I loved the drawings and extras.  For $1.99, the Finding Nemo Interactive Comic app sure seems like a good deal.
Disclaimer:  I received a free copy of this app for the purpose of this review.  The opinions stated above are my own, and sadly, that drawing is my own, too.  Maybe, I should have had my husband do the drawing for me…  There are affiliate links contained within this post.  
Similar Posts:
Incoming search terms:
blue mask diver finding nemo