Pooh's Birthday Surprise
|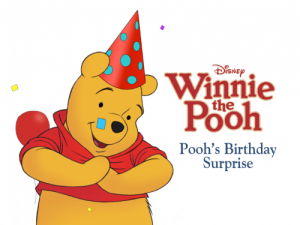 Pooh's Birthday Surprise app is an early learning app aimed at children ages 3-5, and it contains all the charm of the Winnie the Pooh stories that we know and love.  This app is designed for iPhone, iPod Touch, and iPad and is currently priced at $4.99.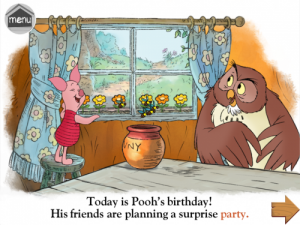 In the very beginning of the story, Pooh's friends are planning Pooh's surprise birthday party, and your child is invited to help.  As the story is read aloud, the word color changes, so your child can see the the word being read.  If your child is anything like me, though, he will be watching…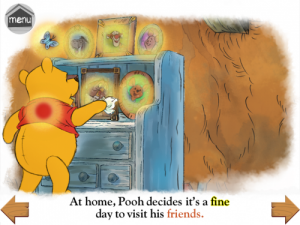 the circles that appear on the picture.  Since these circles do disappear, it is important to know where they are because they are the point of interaction on the page.  For example, in the picture above, when I touched each friend's picture, it brought up a thought bubble with what Pooh likes to do with each of his friends.  The one thing that I don't like in the scene above is that the child is asked to shake the device to clear the dust on the pictures.  I would be afraid of what could happen if I had a 3 year old shaking my iPad.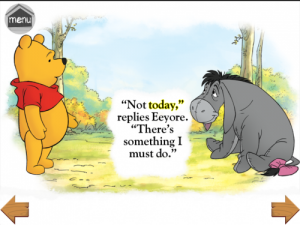 After Pooh finishes cleaning, he decides to go do something with his friends, but for some reason, his friends are busy.  Poor Pooh!  But soon, Pooh remembers that he is supposed to go visit Christopher Robin, and the party begins.
I think Pooh's Birthday Surprise is a good app for the 3-5 year old age range.  I do have the one misgiving of having a child shake any electronic device, but with parental interaction, this would be a minor issue.  There is lots of great learning wrapped into this story app for this age range, and Pooh's birthday party actually provides a lengthy quiz testing your child's memory of what was read.  I really like how Disney Publishing Worldwide Applications integrates learning with the Disney stories.
Disclaimer:  I received this app free of charge for the purpose of this review.  I was not required to give a positive review, and the opinions listed above are my own.  There are affiliate links contained in this post.
Similar Posts: