Planet Explorers Disney Cruise Line 2012
|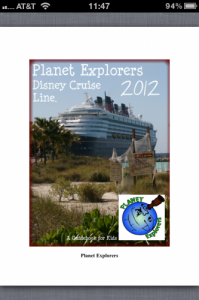 I'm here today with another great and informative Planet Explorers ebook (Planet Explorers Disney Cruise Line 2012).  This one covers the Disney Cruise Line and ports of call.  Like other Planet Explorer guides written by Laura Schaefer, this ebook is chock full of information and links to further learning about important places and things.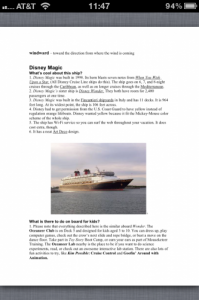 The author includes lots of fun information about the ships of the Disney Cruise Line.  Note: This book was written before the Disney Fantasy set sail on its maiden voyage.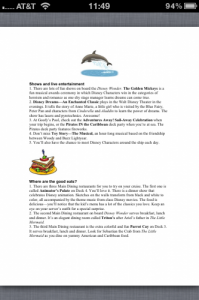 The author lists activities that are geared toward children, as well, as entertainment that is intended for families.  Are you wondering where you might be eating?  She covers that, too.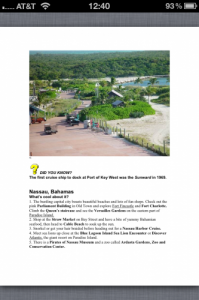 I think one of my favorite parts of this ebook is where Laura Schaefer writes about the different ports-of-call.  She includes links to websites about interesting local history and places associated with each port.  It really is almost like a history lesson and geography lesson rolled up into vacation planning.
Something to remember though is that ports-of-call and cruise routes do change.  As with planning for any vacation, it is always good to double check ports and/or routes with your travel agent or your destination website, in this case, Disney Cruise Line.
So, what did I think?  I really have enjoyed all of the Planet Explorers books that I have read.  I find that they have just enough planning for kids in the 8-12 age range that they are written for, and the books have quite a bit of trivia that keep the inquisitive minds of this age range busy.  As usual, I do recommend checking the links before handing them over to young kids.  I personally have not found objectionable ones; however, links can change.  Also, what I allow for my kids might not be the same as what you allow for yours.
Would you like to win an ebook copy of Planet Explorers Disney Cruise Line 2012 for your child?  This contest is open from 9/10/12 at 12:01 am EST until 9/24/12 at 12:01 am EST.  Please read the rules contained in the Terms & Conditions of the Rafflecopter widget.  You may enter on the Rafflecopter widget below.
Disclaimer:  I was given a free copy of Planet Explorers Disney Cruise Line 2012 for the purpose of this review.  The opinions stated above are my own and have not been influenced in any way.  There are affiliate links in this post.
Similar Posts: