The Magic for a Little Less: Where to go when you're in between Disney trips
|
Written by Jeannette Cona-Larock
Knoebels Amusement Park, Elysburg Pennsylvania
www.knoebels.com
Download brochures:  http://www.knoebels.com/index.php/media-a-downloads
If you're like our family, you've either just gotten back from one Disney location or are planning a trip to another Disney location.  But what do you do in between?  If you're saving for the next vacation or paying one off, there's usually not a lot of money left over for other family adventures.  Well our family has discovered a wonderful spot that we return to every year over the Fourth of July holiday weekend.  Located in the heart of Pennsylvania, Knoebels is a family owned &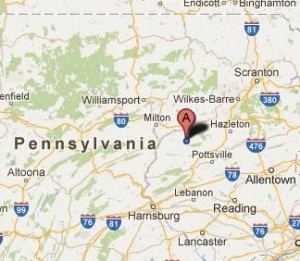 operated park and  is a great destination spot or a great road trip spot if you're on your way north or south or even out to the Midwest from the Mid-Atlantic area.   In operation for over 85 years, Knoebels still has that wonderful family feel.  My husband introduced me to this park when we were dating and now because our girls have been there so often, the stories from the park have become part of our family lore.  But why would anyone else want to go there and what exactly makes it magic for less?  The answer to the first part of the question would have to be the rides, the pool and the food.  Knoebels boasts one of those wonderful wooden roller coasters called the Phoenix that in 2005, the American Coasters Enthusiast (ACE) group designated as an ACE landmark which is given to coasters of historical significance.  But don't let its age fool you, this is one fun ride!  My daughter rode it for the first time after hearing stories for years about how daddy lost
the lens to his glasses the first time he took mommy on the Phoenix and loved it!  But what if you're not a roller coaster fan?  There are other wonderful rides to enjoy whether you like thrills, chills, water or pure amusement in the traditional sense.  Some of our favorites are the swings, the Cosmotron, the Sky Ride and the very traditional Carousel.  In fact, the carousel probably tops the list.  The history alone is worth the read but what we love most is that you can still "reach for the brass ring".  Literally!  They still offer a free ride to the person that gets the brass ring.
If you like to break up your rides with pure amusement, there is a fun arcade as well as traditional carnival style games sprinkled throughout the park. Every great amusement park arcade needs to have a little Skee-ball thrown in with the newer games like "Deal or No Deal" or even "Fruit Ninja". On this visit we noticed two different photo booths. The first looked like it had been there since the 1970s and the second was much more recent. We opted for the older one and weren't disappointed! There is also musical entertainment in a few locations around the park making it a great place to stop and take a break when you need one.
I know, I know, I haven't mentioned anything about the food. Most amusement parks are lost in a sea of greasy French fries, imported fast food from various chains or overpriced pizza. Some are trying to do better with updated chicken sandwiches and a few salads but Knoebels does food like few amusement parks do. Award winning food abounds at this park and you can have your choice of just about anything but our family has its favorites. We start by getting to the park early so that we can have lunch at the Alamo restaurant just a short walk from the parking lot. It's worth the time to sit down in the air conditioned restaurant and enjoy watching all the people walk by outside the window when you get a table near one of the many windows. It's worth the effort when you order the Chicken and Waffles platter. What? Chicken and Waffles? Who has ever heard of such a thing? Well, surprisingly, many Pennsylvania Dutch and residents of that area and they've managed to keep it a secret for a while but now you'll know too. Your platter will come with your choice of potato (we always opt for the mashed potatoes) and another side like coleslaw, absolutely amazing applesauce or in my case a vegetable. They'll bring you a server of chicken gravy and you can begin. Trust me, one bite and you'll understand! Still not interested? Try one of their great sandwiches, burgers or platters while the more adventurous give the chicken and waffles a try. There's plenty to snack on around the park later. What do you like? Traditional snacks like caramel corn, popcorn, hot dogs or cheese fries? They've got them. More up to date snacks like frozen lemonade or fruit smoothies? Yes, they've got those too. This year, we noticed a fun station where you could combine your favorite frozen slushie type drinks in layers of color. My husband and daughter opted for that while my older daughter and I went for a frozen lemonade and a frozen Kona coffee mocha. Delicious! A few years ago, my daughter discovered a pizza stand that made a taco pizza and it's been getting thumbs up ever since. It happens to be right across from a waffles and ice cream stand which also gets rave reviews. Can you tell we've tried a lot of food there over the years? I always end the day with a soft serve frozen yogurt cone with chocolate sprinkles as we exit the park near the Big Wheel. I love the classics.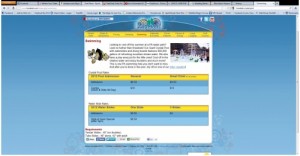 With the introduction of water parks to many of the amusement parks across the country, you might be wondering why Knoebels has "only" a pool. Well, this is an amazing pool and great for an afternoon to cool off between rides when the weather is really hot. Knoebel's Crystal pool is a separate admission but so reasonably priced, it's an easy thing to incorporate into your plans. The pool itself opened in 1926 but over the years they have added fun slides and the atmosphere of the pool continues to be one of family fun and simple relaxation.
So, now, the second part of the question. What makes this park magic for less? Well, to begin with you'll notice that there is no charge for parking. There never has been and it's wonderful. You start off the day, saving the current rate of $10-$15 at most amusement parks. You'll walk past several picnic pavilions as you enter the park. Did you notice I didn't say anything about buying an admission ticket? That's because there isn't any. Yes, no admission fee. Parents, you can take your smallest children on all of the kiddie rides and never ride anything and now you have a place where you don't have to pay to get into a park. You can also choose which rides you want to experience and how many. Knoebels is set up with a ticket system. You purchase books of tickets (or an all you can ride wristband on certain days) and then the choice is yours. The rides are reasonably priced. We get to the park at lunch time and usually leave about 6pm on our annual visit. We have never spent more than $20/person and often we leave with tickets left over which we can use on our next visit because they are monetary based. Another great cost savings! If Grandma is with you and just likes sitting on that park bench, it won't cost you a dime and she can watch the grandchildren ride those little cars around in circles for days.
| | |
| --- | --- |
| | |
So with this entire cost savings, you can afford to go for a couple of days, right, but where to stay? This might be a little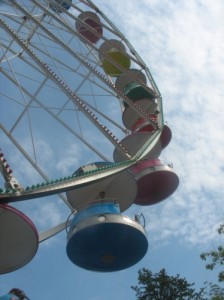 more challenging unless you like to camp. Knoebels has great camping facilities right on site that even includes a few cabins but you do want to book ahead. Outside of the park, there are a few campgrounds nearby as well. Hotel accommodations are a little harder to come by but can easily be found in the nearby towns of Danville or Bloomsburg so stopping before you get there or staying overnight somewhere after you leave is a great idea if you're on a road trip.
We love Knoebels and make it a part of our in-between Disney trip travel every year. We save change for the arcade and hold onto those unused tickets for the next visit but mostly, we look forward to the family time, the relaxed atmosphere and the memories we recall and add to our family history each year. I just know you'll enjoy it as much as we do!
Similar Posts: