Planning for Disney: Getting Dining Tips Ready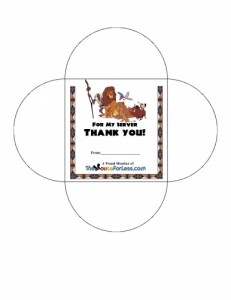 I like to have everything planned out for vacation before we go, so I don't have to worry about keeping things straight while we're gone.  I carry a file on my phone that contains our itinerary from our dining ADRs to which park we plan on going to each day.  Before I go any further, I must say that while this is all planned out, we are still flexible.  Anyway…  Back to my plan…
I don't like to go to a restaurant and have to sit and figure out the tip.  While I know Disney includes some of this information on the check, I would prefer to not have to dig around my purse to pull out the cash or charge the tip to the room, either.  Yes, I like to be prepared ahead of time.
See that envelope at the top of this post?  Well, it will be an envelope after my daughter cuts it out and tapes it together.  We like to print one of these out for each Table Service restaurant that we plan on going to.  Well, not all of them are The Lion King.  The Mouse For Less has some great pages of downloads, and one of these is the page of Disney Gratuity Envelopes.  You can download files to print on existing envelopes or you can download the envelope project like the one above.  These come in all sorts, from The Little Mermaid to Mickey Mouse.
So, how do I use these to get ready?  I point my browser over to The Mouse For Less Menus and start looking at restaurant menus.  We sit together and figure out what we will likely want to eat at each location and figure out the approximate price.  Remember that menus and prices do change.  We then figure out a percentage of the estimate that would amount to the tip.  We do this for each restaurant and stuff the envelopes with the appropriate amount before we leave home.  So, if we are going to 1900 Park Fare for dinner on Saturday night, that envelope goes in my park bag that morning before leaving the room.
This is just one of the steps that we do to try to make things a little easier and quicker at the parks.  Also, don't tell my daughter this, but she will be doing a majority of this for our next trip as some of her math.  🙂
About The Author

Naomi M.