Planet Explorers Universal Orlando Resort 2012 and Wizarding World of Harry Potter
|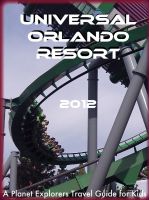 If you read my post about Planet Explorer Walt Disney World 2012, you'll already know that my kids love planning and that they also love planning books that are written just for their age range.  Laura Schaefer has written several travel ebooks just for kids ages 8-12.  Of course, I enjoyed the books, too, but some adults might not find them as "packed" with information as what they are looking for.  For kids, though, these books have just enough to educate about the parks AND to answer the why's, where's, and how's behind their learning patterns.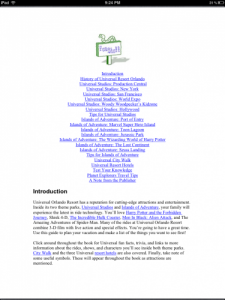 Today, I'm reviewing 2 ebooks:  Universal Orlando Resort 2012 and Wizarding World of Harry Potter 2012.  So, let's start with Universal.  As you can see from the Table of Contents above, the author has an extensive list of what she is covering in this book.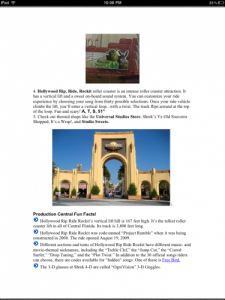 I love how many details that this author includes in her books, like how tall the ride is and when it opened.  Make sure you look at her coding for each attraction to see if it is a good fit for you (not too dark or scary).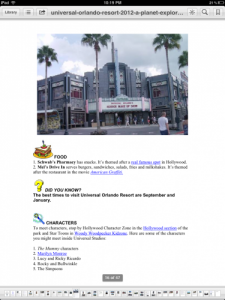 The author gives a highlight of the food offerings and the characters available to meet at Universal Studios.  In the approximately 65 pages in this ebook for $3.99, she is able to give enough information to keep your child interested in planning a trip to Universal Studios without ruining the surprise and delight when your child gets there and looks at all the things around.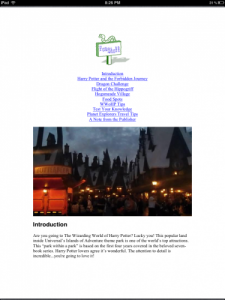 The Wizarding World of Harry Potter is shorter, at approximately 38 pages, but is still listed at $3.99.  In this ebook, the author gives a pictorial overview of the Wizarding World of Harry Potter and links primarily to the Harry Potter wiki for extra information.  One thing to remember is that even though this is in ebook format and mostly current, there may be information that is still out of date.  This book is copyright 2011, so the ticket prices in this book are outdated.  Make sure you check the Universal Studios website for current prices.  Also, the way that people are allowed into the Wizarding World of Harry Potter may change from day-to-day and hour-to-hour, based on the number of guests, so tickets for timed entry may not always be offered.  These are just little things that change over time and in no way impact my opinion of this book.  I just wanted to point out that these things can and do change.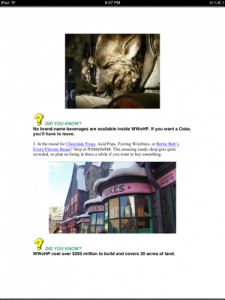 If your kids like Harry Potter, they will love this planning ebook!
Now, I get to give away a copy of each book to one person!
Make sure you read the rules located here.  Disclaimer:  I received these ebooks free for the purposed of this review.  The opinions listed are my own and now influenced by any outside source.
Similar Posts: