Brave: Storybook Deluxe
|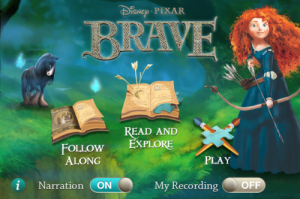 Disney Publishing Worldwide Applications has another hit, right along with the movie Brave!  This app has as much of the beauty of the movie as is possible to squeeze into an iPhone and iPad app.  Brave:  Storybook Deluxe costs $6.99, and if you liked the movie, you will like this app.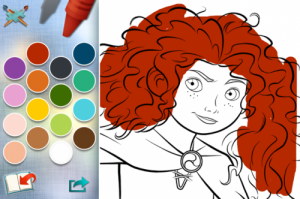 Like most of the Disney apps, there are coloring pages.  The coloring pages went well with the story, but I think the one negative is the red color.  I don't know if it is just me, but the red almost looks brown.  Obviously, this is a minor issue.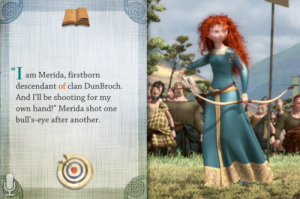 Like many of these apps, there are little "side trips" to take for some extra fun.  Besides the coloring sheets in this app, there are some puzzles.  When you see a quiver full of arrows pop up in the lower left corner, that means there is an arrow hidden in the picture that you need to find and touch.  This arrow is then added to your quiver.  In the above picture, the target takes you to…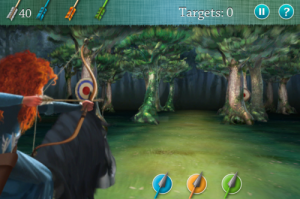 a target game.  As Merida rides through the forest, you are supposed to tap on the targets on the trees, and the arrow will hit it.  Usually, I review apps more on my iPad, but this one, I reviewed on my iPhone.  I found that even though my finger hit the target, the arrow did not always hit it.  I think it was just how the iPhone tracked my big finger, so it might work better for kids with small fingers.  WARNING:  This game can be addictive!  My husband was playing this game over and over again as I was reading the storybook.
I LOVE how the narrator of this book speaks with a Scottish brogue.  It just lends more to the story and made it more enjoyable.
On the iPhone, I found that the scrolling from the partial page after narration to the full picture with the extra effects was a little difficult.  It was very easy to overshoot and end up on the next page of narration.  My husband said that the iPad did not seem to have that problem.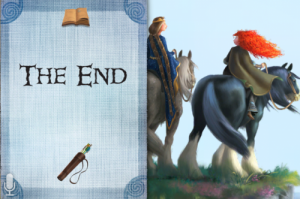 I LOVED the Brave:  Storybook Deluxe app for iPhone and iPad almost as much as I LOVED the movie Brave!  There are some pictures of the bear (Mordu) rising up for an attack, so if your kids had any issues with Mordu while watching the movie, I would recommend that you read through the app before letting your kids do so.
Disclosure:  I received this app free of charge for the purpose of this review.  The opinions stated above are my own, and I received no other compensation other than finding a Disney Princess game that my husband had fun playing.  Shhh!  Don't tell him I told you that…
Similar Posts:
Incoming search terms: