Brave Interactive Comic App – A Review
|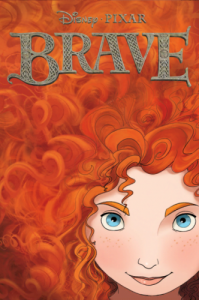 I recently was able to try out the Brave Interactive Comic app available for the iPhone and iPad from Disney Worldwide Publishing Applications.  I'm going to be bluntly honest…  I really didn't think I would like this app.  I've never really liked comic books.  Well, maybe Richie Rich when I was much younger…
As I got deeper into the app, though, I realized how much detail was included.  This truly is not any ordinary comic book, that's for sure.  Are you ready to take a peek inside?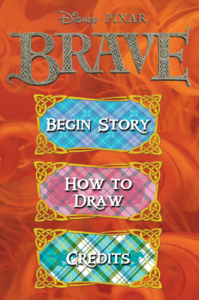 In this app, you can read the story and learn how to draw.  I'll leave my feeble attempt at learning how to draw for last, so I don't scare anyone off.  🙂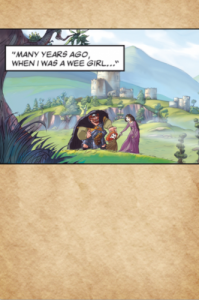 Each comic scene loads individually, giving a really cool looking effect as each subsequent scene loads.  When I first started reading, I had to tap or swipe the screen to get the next scene to load, but I did find an option later to have each scene autoload.  I like having the two options because those who need the extra time for each scene can take that time.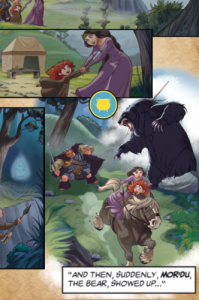 See the circle in the picture above?  If you click that circle, it takes you to really cool drawings/pictures of characters and scenes in the story.  My husband and I were both impressed with the quality of these pictures!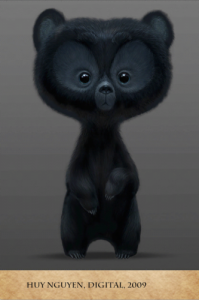 This is one of the pictures that I saw along the way.  I LOVE the detail in his face!  The eyes are so expressive!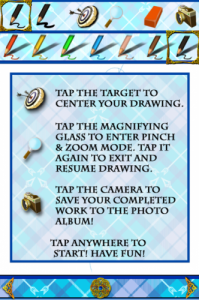 Now, we get to the scary part…  Have you seen the books at Disneyland or Walt Disney World that are geared toward teaching your kids how to draw characters?  This is like those books, but it is on the iPhone or iPad.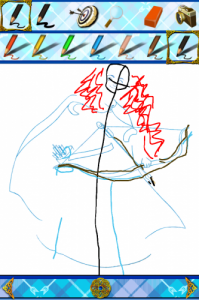 You're supposed to trace the blue lines with the colors of your choice.  After finishing a set of lines, the app will show you the next set of lines to trace.  I will be the first to admit that I am NOT an artist by any means, and my husband's turned out much better than mine, but it is really cool to be able to learn to draw characters from the Brave movie.
You can buy the Brave Interactive Comic app for $1.99.
Disclaimer:  I was given this app free of charge for the purpose of this review.  There may be affiliate links in this post.
Similar Posts:
Incoming search terms: