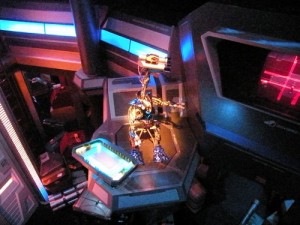 With the Summer travel season starting, I want to share an experience that my family had the last time that we flew to Walt Disney World.  Well, actually, it happened on the way home.
We had followed ALL the TSA rules and thought that we would have no troubles, at all.  We had prepped the children in how to act and what to say or not say, but we could never have planned for what caused us to have our carry-on bag checked.
We had carried the kids' favorite souvenirs in our carry-on bag.  When the bag was sent through the scanner, the TSA agent stopped and looked very carefully.  She scanned it again and then said that she needed to look inside.  After she looked through it, she told us what she thought was being picked up on the scanner.  See, there were areas that were showing up like explosives.  No!  We didn't have any explosives, at all.  What we had were deflated balloons.  Deflated character balloons that the kids had gotten right before the fireworks.  The TSA agent felt that what she was seeing was residue from the fireworks that had fallen on the balloons.
While this caused us no harm and didn't make us miss our flight, it might have if we had been running late.  Next time, we will likely mail the balloons home instead of carrying them in our bags.
Have you ever had this happen to you?
About The Author

Naomi M.