Disney/Pixar's Brave Preview Screening
|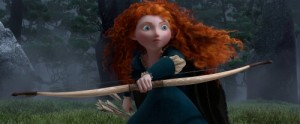 With some faith, trust, and a sprinkling of pixie dust, I got to see a preview screening of Brave on Wednesday night.  Just for the record, I LOVE Disney/Pixar so much that I drove four hours round trip to see a preview of a Disney/Pixar movie, and every moment of that drive was worth seeing this movie!
Over the years, we have watched as the animation of Pixar and then Disney/Pixar has evolved, and it has come even further with Brave!  The Scottish countryside seemed so lifelike in every scene.  At times, it did not even seem as if I were watching an animated film.  It was that real!  Even Merida's hair seemed so much more realistic than what we have seen in any other Disney/Pixar movie.  What I like about Disney/Pixar 3D is that they don't use it for shock value.  They use it to make the movie more like real life, and that is what the 3D is like in Brave.
As the mother of a daughter, I appreciate that Disney/Pixar put so much into the relationship of Merida and her mother, Queen Elinor.  Queen Elinor wants Merida to marry the winner of a contest and not for love.  Merida, being the rebellious teenager, doesn't want to.  Since it is tradition, the clans are invited to compete, and Merida is NOT happy.  When Merida decides to take things into her own hands, so to say, the kingdom is left in a sense of chaos.  Fighting ensues, and Merida rides away on her horse.  How will Merida change things?  How will she get her mother to see things her way?
Of course, as Merida and her mother's relationship grew strained, Disney/Pixar provided quite a few elements to lighten the mood with laughter.  My son thoroughly enjoyed the antics of the triplets.  At times, he was laughing so hard that I thought he would burst!  Even Queen Elinor provided a few laughs.
My son asked me if there was going to be a "short".  You know, like Presto or Hawaiian Vacation…  Well, I have to say that La Luna is probably my new favorite Disney/Pixar (or Pixar) short.  There is so much thought and imagination evident throughout.  Because it is short, though, I don't want to give any of it away, but, suffice it to say, it is definitely one that you don't want to miss!
So, are you ready to see Brave?
Similar Posts: