Would You Like to Win a Year of Marvel Super Heroes Magazine?
|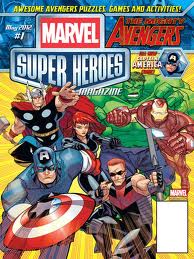 I have been a fan of Disney magazines for quite some time, now.  Disney magazines, such as Disney Junior and Disney-Pixar Cars, have done so much to encourage my son to read and write by providing stories and activities that center around his interests.
Now, Disney Publishing has released Marvel Super Heroes Magazine, a new 36-page magazine for its youngest Marvel Comics readers!
To celebrate the Marvel Super Heroes Magazine release, you have the chance to win a 1-year subscription to this magazine!
Marvel Super Heroes magazine invites families to bring home the "Mighty Marvel Universe!" Readers must get ready to join forces with all their favorite Avengers. Each issue features exciting comics, brain-teasing puzzles, cool activities and fun cutouts, plus, an amazing looking collectible poster.
Fast Facts:
Publisher: Disney Publishing Worldwide
On-sale: May 1, 2012
Page Count: 36 pages
Retail Outlets: Wal-Mart,Target, B&N, Kroger stores, and Comic Book stores
Target Age: Boys 8 – 10
Retail Price: $4.99
Subscription Price: $29.92 for 8 issues (25% off the cover price)
Page by Page:  What's Inside the Marvel Universe?
Amazing Comics: All-new adventures of familiar Marvel Super Heroes.
Pull-Out Posters: Hang up full-color posters of the Avengers of the Marvel Universe.
Mighty Marvel Fun: Games, puzzles, cutouts, quizzes, Super Hero IQs, collectible bios plus loads of other fun pages.
About Disney Magazines
From the magic of Disney Princess and Disney Fairies to the exciting world of Disney·Pixar Cars, Disney Publishing Worldwide's Global Magazine division publishes a kaleidoscopic range of children's content with approximately 250 titles in 72 countries around the world. For kids, Disney's Standard Character titles are by far the most popular, including Topolino, Le Journal de Mickey and Donald Duck, with content targeting boys, girls, and tweens through familiar franchises, including Toy Story, Winnie the Pooh, and Cars.
Similar Posts: