Festival of the Nations in St. Paul, Minnesota
|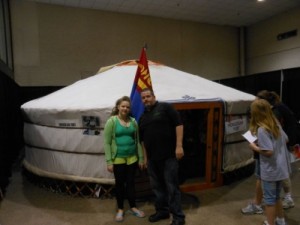 If you enjoy wandering around the World Showcase at Epcot, you will enjoy Festival of the Nations.    I am pretty sure there are festivals in other communities around the country & world, but after a long hiatus we returned to the one in St. Paul this year and were again wowed and will be adding it to our annual calender.  As my daughters dance school O'Shea Irish Dance was performing Saturday and Sunday, we attended both days.  After you see all we ate you will see it took at least two days and quite a bit of "sharing" just to begin to sample some of the foods.
There is 4 areas you will want to make sure you visit.    First of course being the Ethnic Cafes!   This year had 26 cultures represented along with a Wine Tasting (cost was $5, we did not have a chance to enjoy this).   The cafes we were able to visit and sample (over a two day period) included African American (Chicken Gumbo, Chicken Jamalaya and Beef Patties), Cambodian (egg rolls, shish kabos, and cabbage & carrot pickle-a very tasty cole slaw type of dish), Danish (Vaffle), Japanese (Orange Blossom Punch),Lebanese (Mezza Sampler platter included grape leaves, feta cheese, Lebanese olives and pickles, hummus, pocket bread and a garlic salad), Nigerian (Moi-Moi, bean cake, coconut rice, goat stew, and fried plantain), French (crepes), Italy (pizza, this was DS the picky eater, although he did sample some of our other dishes), and Romanian (Cirnati Romanesc- sausage & Sarmale – Romanian cabbage rolls).   Some of the booths I have checkmarked for next year as we ran out of room in our stomachs are Finnish, Hungarian, and Tibetan.   Yes I actually kept a list so I wouldn't repeat myself and can try more foods.   One of the entertainment stages is located in the far corner here, as well as 2nd one right when you walk in.
Also on this lower level is the International Bazaar and Folk Art Demonstrations.   Here you could watch craftsmen doing American Indian Silversmithing, Ghanaian Hair Braiding, Russian Folk Crafts to an wedding ceremony performed by ethnic India families and much more.  There is also plenty of shopping from all over the world, and the prices were not out of this world.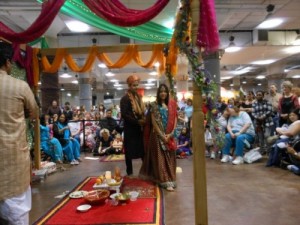 The main entertainment stage is upstairs with ample seating particularly if you go up into the balconies, which we decided actually gives you a better view of the performance, although you are too far away to get good pictures with the typical camera.   One thing I really like was that they would do approximately 45 minute shows with 6-8 different ethnic groups performing, so it was easy to sit and take in many different types of dance, and most of them had a tiny commentary explaining when or why they would have been performed as well.   (there are also two smaller stages down by the food cafes).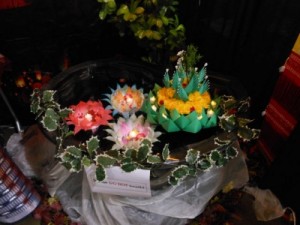 Back behind the main stage, almost hidden is the Cultural Exhibits area.   50 ethnic areas were represented here and you can pick up a Festival of the Nations passport and get it stamped at each country as well as have your name written in their native language.   I took 2 days to go through this area as well and enjoyed talking with natives from many countries and ethnic regions as well as looking over their exhibits and learning about their ways.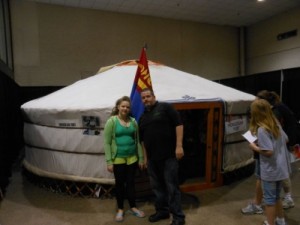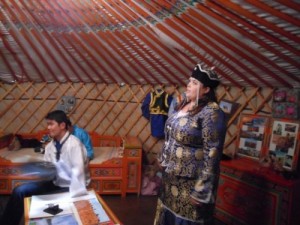 Similar Posts: