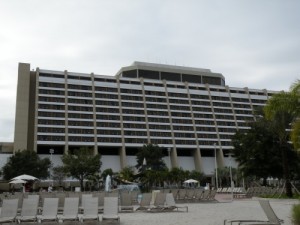 Another question that was posed during The Mouse For Less 13th Birthday was "Which is a better value, making your own reservations or getting a package?"  I've thought long and hard about this question and am not 100% which way the person who posed the question was heading.  One of the definitions of "value" is "the worth of something compared to the price paid."  So, I think I'm going to tackle this as an "offsite" versus "onsite" question.
There are many ways to make your vacation less expensive by making your own reservations.  The Mouse For Less website has negotiated some great rates for our readers for vacation homes, rental cars, and attraction tickets.  The benefit to booking your reservations this way would be to save money.  Quite often the vacation homes have more space for less money than a Disney resort.  For a large family, this might be a great option, but the drawback to this direction would be that you have to leave the "magic" every night.  You may spend more time just in driving back-and-forth between your lodging and the parks than if you stayed onsite and may need a rental car if you flew into Orlando.  The other downside is that you would not be able to utilize the Disney Dining Plan.  On the plus side, this would be a good option if you were visiting more parks in the Orlando area.
On the other hand, we have staying "onsite" as an option.  While it might be more expensive to stay at a Disney resort, it does have a lot of perks that might make up the difference.   When staying at a Disney resort, you can park your car and use Disney transportation.  You wouldn't necessarily need a rental car, and you can take Disney's Magical Express from Orlando International Airport, if you happened to fly there.  You have access to the Extra Magic Hours by staying onsite, and that is an extra hour to three hours in a park (subject to EMH schedule during your trip).  Also, if you have purchased a Magic My Way package, you can add on one of the Disney Dining Plans.  I recently sat down and ran the numbers to see if the Disney Dining Plan was worth it for my own family, and it is really amazing how much money this plan can save over paying out-of-pocket.  It really boils down to your particular eating habits, and I found it helpful to look at menus to actually figure out how much we might spend on our food.  And lastly, when you stay at a Disney resort, you are staying in the heart of the "magic."
I mentioned the definition of "value" at the beginning of this post.  There is another definition of "value," and that is "the importance or preciousness of something."  Only you can determine what the "value" of your vacation is or should be.  You can determine that by figures in a spreadsheet or by your heart.  What is "value" to me is not the same "value" to another person.  I can help you with the cost, but only you can determine what "value" you expect out of your vacation choices.