Avengers Origins: Assemble!
|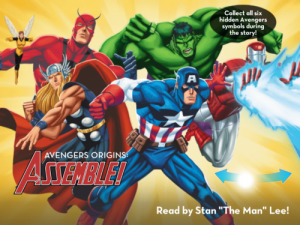 As the title says, Avengers Origins:  Assemble! tells the story of how Captain America and the Hulk assembled with the Avengers.  You may be able to tell that I am not really Avengers-literate.  🙂  Also, I do want to start this review by pointing out that this app is Rated 9+ for the following reason:  Infrequent/Mild Cartoon or Fantasy Violence.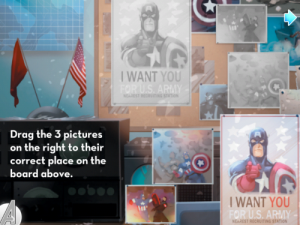 There is quite a bit of interaction in this app, including  finding 9 shadowy icons related to the Avengers.  Note:  Some of the characters in this app are not in the new movie.  This particular app is based more on the original comics.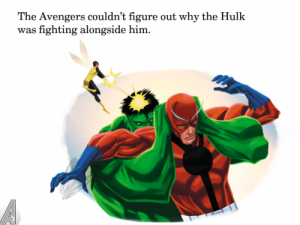 Can you see the icon in this photo?  Sometimes they are hard to see.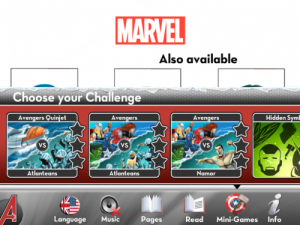 When I got to the end, I clicked on "Mini-Games" and found these games.  Now, there might not be all of these games normally because I also have the Avengers Origins:  Hulk.  In the description for that app, I found this update:  This latest version of the "Avengers Origins: Hulk" App allows you to unlock the Hulk in the "Avengers Origins: Assemble!" App Mini-Game!  So, you might want to buy both of these apps…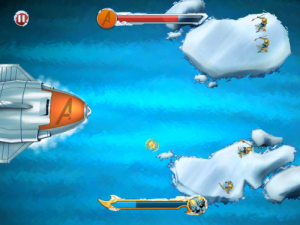 This is the game that I tried playing.  It involves clicking on the ship and dragging to aim Plasma Bombs at Namor's fighters.  See my Plasma Bomb flying on target?
So, here is my take on Avengers Origins:  Assemble!  If you like the Avengers and you like to play games, this is the app for you!  At $5.99, this app seems under-priced for the type of games involved.  The app was just updated with the following:
What's New in Version 2.0
Now includes a 3D third-person-view ACTION PACKED mini-game!
• Choose from one of your favorite Mighty Avenger: CAPTAIN AMERICA, IRON MAN, THOR, BLACK WIDOW or THE HULK (unlocked if you own the latest version of the "Avengers Origins: Hulk" App) to save the Earth from the attacks from Namor and the Atlanteans.
• Test your skills on 3 exciting stages – AVENGERS Quinjet vs Atlanteans, AVENGERS vs Atlanteans or AVENGERS vs Namor!
• EACH STAGE has 3 levels of difficulty, 3 levels of Star Awards and endless amounts of fun!
• Obtain all 8 Achievement Badges to become a true AVENGER!
• Play as an AVENGER currently featured in the BLOCKBUSTER FILM!
I was given a free code to download this app for the purpose of this review.  As always my opinion is my own.  There may be affiliate links contained in this post.
Similar Posts:
Incoming search terms:
Avengers Origins Assemble