Learning Chinese the "Easy" Way
|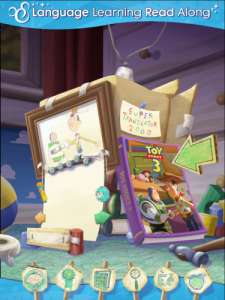 Last month, I shared with you about a new app available from Disney Publishing Worldwide Applications that teaches Chinese using a Diglot Weave technique.  I had never heard of this method, at least not by name, so I was curious to find out more about it.
The official name of this app is Learn Chinese: Toy Story 3 – Disney Language Learning.  Learn Chinese works on a very simple principle of utilizing a familiar story in the native language of the student and then replacing a few words at a time with the language that is being learned (Chinese, in this app).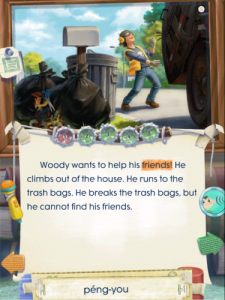 In the above page, I was listening to the story being read to me in all English.  I was able to take one English word at a time and flick it to the box at the bottom to see and hear the Chinese equivalent.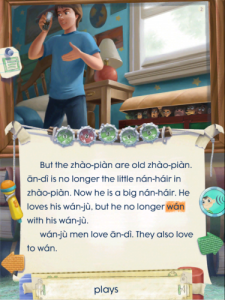 In this screenshot, you can see how some of the English words have been replaced with Chinese words.  The story is read aloud so that you can hear the Chinese pronunciation of the words.  At any time, you can flick the word down to the box to get the English translation.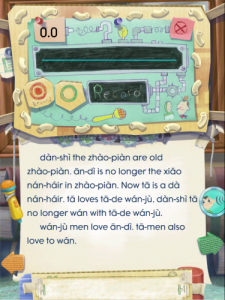 Each level higher means more Chinese words.  You can even record yourself reading the story, if you would like.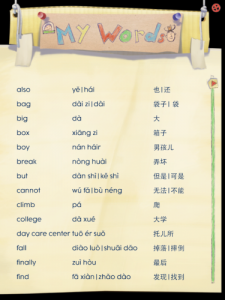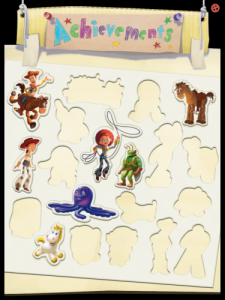 There is even a word list and a virtual sticker page for a reward system.
What did I think?  I can't wait for Disney Publishing Worldwide to come out with other languages.  Obviously, one can't learn an entire foreign language in one store, but this app really gives a good start.  I really like how this app combines such a fun story that many of us know with great colored graphics and learning a new language!  Learning a new language is often difficult for most of us, but I think this method of learning is one of the best that I have seen.  Add this method of learning to a great Disney/Pixar movie, and you get one of best ways to learn a  foreign language.  I hope it is not long before other languages come out as well!
Remember that Learn Chinese:  Toy Story 3 – Disney Language Learning is only for iPad and is priced at $4.99.
FTC Disclaimer:  I was given a code for a free download of Learn Chinese:  Toy Story 3 – Disney Language Learning in hopes that I would share my opinion with you.  The opinions stated above are mine only and have not been influenced by anyone.
Similar Posts: