Disney Takes Learning a New Language to a Whole New Level
|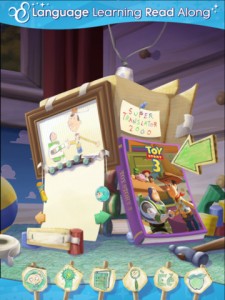 Disney Publishing Worldwide Applications has entered the arena of teaching foreign language here in the U.S. with the release of a new iPad-only app called Learn Chinese: Toy Story 3 – Disney Language Learning.
I do know that English is spoken all over the world, but I did not know that all Chinese state employees younger than 40 are required to master at least 1,000 English phrases and that all schools in China teach English in Kindergarten.  Disney Publishing has been heavily involved in this initiative – its 'Disney English' global brand encompasses licensed language learning products sold around the world and at 31 language learning centers in China.
Evidently, teaching Mandarin in the U.S. school system has become more popular, and now, Disney Publishing has released its first language learning product.  This iPad-only read-along app is based on the international teaching method Diglot Weave.
About the Diglot Weave technique:  A Diglot Weave story is told partially in the native language of the learner and partially in the language being taught.  As the learner's understanding progresses, an increasing proportion of the story is told in the foreign language until the reader is experiencing the story entirely in that foreign language.
App Features: 
Professional bilingual narration across all levels
Music and sound effects
Pronunciation of individual words available at a tap
Audio and visual translations of individual words available with an easy-to-use translator
Voice recording to practice and compare pronunciation with the narrator
This inaugural app, Learn Chinese: Toy Story 3, is available for iPad for $4.99 and is now available in the U.S., China, Australia, and 25 additional countries throughout Europe and Asia.
Similar Posts:
Incoming search terms:
new disney english 2014 learning centers