Disney Favorites Through the Alphabet – "V"
|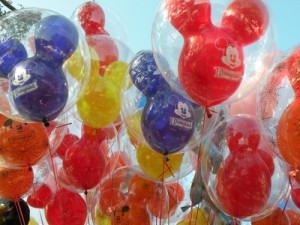 Today, I'm continuing through the alphabet with the letter "V", and you may be wondering what my balloons have to do with "V".  If you are, it certainly is a valid question.  My balloons remind me of vacation.  Yep!  When I go on vacation to a Disney Park, I love to see all the Mickey-head balloons, but I do also like to "see" some churros and Dole Whip if I'm in Disneyland.  If I'm in Walt Disney World, I like to "see" some treats from the bakery in France and some Kaki Gori in Japan.  But…  How do I find out what I want before I go?
This brings me to vacation planning.  You know, some planning (like taxes and work) is just boring, but not vacation planning.  See, I love vacation planning so much that I became an agent for The Magic For Less Travel.  Not only do I like to plan my own vacations, but I love to help others plan as well.
And where do I start planning my own vacation?  Well, I start by getting my kids involved, and together, we make a countdown timer to make our countdown more visual.  Both kids LOVE to plan by pulling out the Birnbaum's Guides to Walt Disney World for Kids (or other guides) or by going to Google Earth and "visiting" Disneyland or Walt Disney World with 3D imagery.
Since we homeschool, I like to see what is available online to plan our vacation while getting some learning in at the same time.  It has been almost 3 years; since, we have been to Walt Disney World because we had been spending our time at Disneyland.  Since it has been so long in between visits, we will be able to go back through some great learning pages about the countries represented in EPCOT.  At the bottom of the page you will also see links to alphabet pages.  My kids actually learned to write using these pages.
I usually have a good idea of the resort we want to stay at, but the dining is a different story.  I have picky eaters…  Yes, I said it.  My 12 year old would be happy eating nothing but mac and cheese for a week; however, I would like to see her eat a little more variety.  Because of this, I am so happy to be able to show her menus before we go so that we can plan where we want to eat.  Of course, some other food planning goes into this.  We like to eat breakfast in our room, so we order breakfast food from Garden Grocer.  It is great to be able to order and pay for this before we leave home and have our food delivered to our Walt Disney World Resort hotel!
Sometimes, I may have a question related to my upcoming trip.  The Mouse For Less has some really great options for this.  The Mouse For Less group on Yahoo is for planning those Disney trips.  There are some really nice people on this group who like to help answer questions and are almost like family.  Magic Cruises For Less is a Yahoo group that is geared toward planning those magical cruises.  And now…  There is a new option for vacation planning.  It is called the MFL Boards, and it is a great growing community of other Disney fans just like you and me.  I hope that you will join us in our vacation planning.  Not just here on the blog but with our many ways of planning that great Disney vacation!
Similar Posts: