It's a Small World After All
|
People who know me well, know that I love my iPhone and my iPad.  Well, maybe love is a strong word, but my iPhone and my iPad help me function from day-to-day.  I homeschool my kids, so when I have to run to the bank or take the kids to a doctor appointment, my Apple products help make life easier.  That being said, I like to make sure that I have some trusted apps on my iPhone or iPad so that I don't have to worry about what the kids are looking at.  One of my new trusted apps is…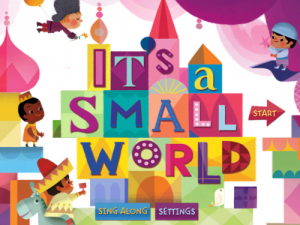 It's a Small World by Disney Publishing Worldwide Applications.
I saw this book a few months back in my local Barnes & Noble store, and I really wanted to buy it then.  It was so colorful.  So when I saw that it was made into an app, I immediately pulled up my iTunes and purchased it.  It is every bit as colorful as the book and is animated with music, speaking, and interaction.
I'm going to start with the negative because I want to get that out of the way.  When I first downloaded this app, I had problems with it crashing on my first generation iPad.  They have since released an update, and it has since been crash-free.  Now that I have that cleared up, let's head on to the positives…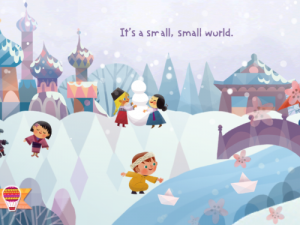 If you touch the "Start" button from the home page, you will be taken through the clouds to the different countries as you hear the story read aloud.  You control the speed of your travels, but make sure you do spend some time in each place because there are things to do.  In this picture, you can move the paper boats upstream.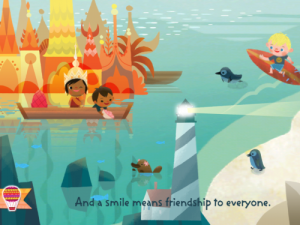 In this picture, it is fun to start the beam of the lighthouse and move the animals around.  My son and I found that there were several children that did things when we touched them.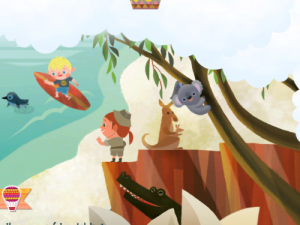 There is so much to do that the app seems different each time we open it up.  We discover new things.  Of course, there is another way to use this app.  It's called the "Sing Along".  I know that you already have the song running through your head, so why don't we just sing…
It's a small world after all
It's a small world after all
It's a small world after all
It's a small small world
Pertinent Information:                                                                                            
Similar Posts:
Incoming search terms:
its a small world after all