Disney Favorites Through the Alphabet – "Q"
|
So… Today, I go from the plethora of "P" pictures to "Q". There were not many "Q" pictures in my files of thousands of pictures. So, I went on a quest for how "Q" and Disney fit together. Well, that led me to think about Walt Disney, and there we have it. Are you asking what I'm talking about? Well, even though Walt Disney is no longer with us, he is still very much a part of the parks. There are so many of his quotes throughout, and I am so glad that these quotes are there to remind us of his dedication to a quality experience.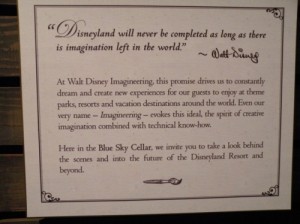 As you can see, the above sign is in Blue Sky Cellar in Disney California Adventure Park. We enjoy visiting Blue Sky Cellar during our trips so that we can see what changes are coming. It's great to see that Imagineering is still living up to Walt Disney's vision.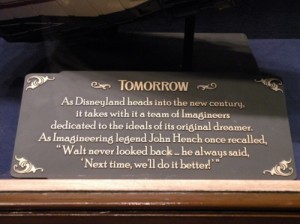 I had never seen the above quote before, but it really says a lot to me. This is a great attitude! The ability to look forward and not dwell on mistakes is what made Disneyland what it is today and continues to improve all of Disney's endeavors worldwide.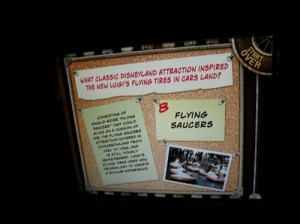 When we went to the Disneyland Resort in September, 2011, Blue Sky Cellar had a video quiz about different things around Disney California Adventure Park. I took pictures of the answer screens because I thought the quiz was such a unique thing to do.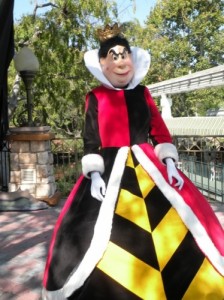 During our last trip, my son had to spend some extra time inside with air conditioning, so my daughter and I got to do a few things that my son wouldn't really like to do. Villains. My daughter got some really great interaction with the Queen of Hearts and the Snow Queen.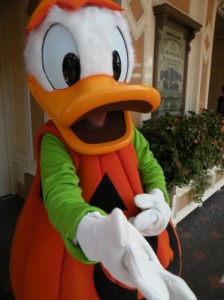 And lastly, Donald Duck dressed as a pumpkin was so funny! I had made some special autograph books for my kids that used pictures from previous trips. Donald Duck was extremely upset to find that there were no pictures of him in the book and made me promise to put 8 pictures of him in our autograph books next time. That really quacked me up!
Similar Posts: