Disney Favorites Through the Alphabet – "O"
I am having so much fun as we travel through the alphabet, and I hope you are having fun, too. There are so many ways we can look at each letter. We can pick a topic that starts with that letter, or we can pick a specific ride or character. For this post, I was to consider a feeling. How about looking at things that make you say, "Oooooooo!"
So, make yourself comfortable, grab your Dole Whip,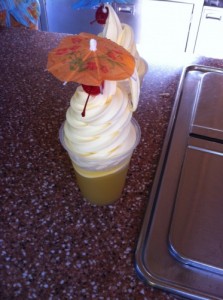 and start thinking about the sights of Disneyland and Walt Disney World that make you say, "Oooooooo!"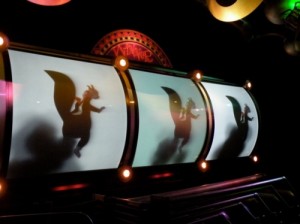 Every time I ride Journey into Imagination with Figment, I'm not sure if I say, "Oooooooo!" or "Ewwwww!" My son holds his nose, but he still insists on riding it again and again. Now, why couldn't Figment have turned into a rose with rose scent permeating the air. Wouldn't it have been just as effective?
I think nighttime at Disney is what gives me the biggest "Oooooooo!" factor. Whether it be fireworks, other nighttime shows, or just the lights, nothing says "Disney Magic" like night. I love all the color, especially, in Tomorrowland. Even though the above picture was taken from far outside the Magic Kingdom (at the Contemporary Resort), the colors of Tomorrowland are so vivid!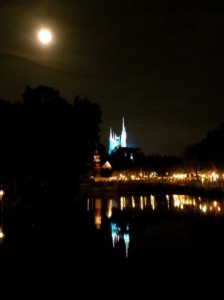 It is so beautiful when a light haze covers the moon, and the winds are so calm that there is not a ripple on the water. What a beautiful sight was that reflection! On a side note, my camera didn't even really do this justice. It was so much more beautiful in person!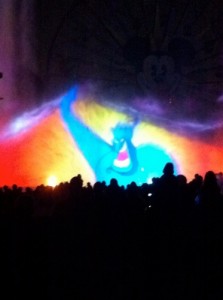 Of course, I couldn't leave a nighttime post without having a picture from my all-time favorite nighttime Disney Parks' show, World of Color. Oooooooo! As Genie says, "Made you look!" 🙂
Similar Posts:
Incoming search terms:
walt disney topics through the alphabet